You want unique mementos to celebrate the life of someone who has passed; that's why you're here on our website. You aren't willing to settle for 'run of the mill' or 'one style fits all' funeral programs and other keepsakes, because the person who has died was one of a kind. Our new clipart borders package is an easy way to do just that—create unique, attractive funeral programs without being a graphic designer.
If you haven't thought about the ways clipart borders can enhance the appearance of your funeral programs, here are some ideas to consider:
You can use funeral program clipart borders to give the pages of your programs a more finished, professional appearance.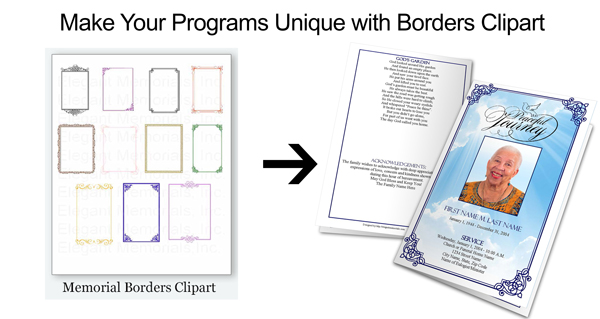 Clipart borders can be used to emphasize photos and collages that you include in your program design.

The addition of clipart borders to our funeral program templates creates even more visual interest.

Because each person's creative ideas are unique, your funeral programs, using tools such as clipart borders, can be one of a kind, as well.

Design elements such as borders can also be used to reflect the personality and interests of the person who has passed. What were their favorite colors? Were they elegant and stylish or modern and colorful? Do you see how knowing details like that could help you design an appropriate memento?
But just how difficult is it to add clipart borders to a funeral program template? The answer—it's not difficult at all! Because the borders included in our new package are in PNG format, they'll blend seamlessly into your program templates, without a lot of 'tweaking'.
They're also easy to customize, thanks to the selection of colors and styles available. We've even included a Microsoft Word document with smaller images you may want to cut and paste into your program.
One more advantage to using funeral program and memorial clipart borders is that they are designed to be easy to mix and match, allowing hundreds of possible combinations. You won't have to worry that, even if you're designing funeral programs for many clients, you will duplicate a program that was meant to be personalized.
Having the right tools available makes all the difference when designing something as intimate as the program for a funeral or memorial service. These new clipart borders for funeral programs are just such a tool—easy to use, simple to customize and very affordable.
As you build your funeral program design business, or when you need to design funeral keepsakes for a loved one, consider using our new clipart borders package to create just the right look for a final tribute.