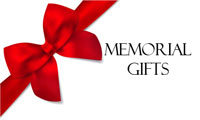 I am sure most of you have been in this situation at least once: A close friend or family member loses a loved one and you want to do something more than send a card and flowers, but you aren't sure what to do. As death becomes more accepted and not frowned upon as a "taboo" subject, more personal and unique memorial gifts are showing up on the market and are becoming a more suitable way of showing respect to the family of the person who died.
Each memorial or bereavement gift has its own symbolism and can reach out to the bereaved in very intimate ways. Some of these bereavement gifts are universal in nature and can be given to anyone who's lost a loved one, while others can be personalized with names, death dates, etc. Cremation jewelry is a growing choice for those who want to carry their beloved with them. A simple pennant can hold a miniscule amount of ashes, but it's enough to provide the comfort needed. A living tree, bush, or plant symbolizes rebirth; what a great way to watch your loved one's spirit grow!
Engraved or otherwise personalized unique memorial gifts offer the extra special touch in remembering a special person who died. Photographs or drawings of a person adorned with a special memento are not only heartwarming, but ingenious too.
Here's one I haven't seen before: Funeral embroidered handkerchiefs. Stitched with deceased person's name and birth/death dates, this keepsake fits perfectly in a Bible or jewelry box, or you can even have it framed! Finally, one of the most unique memorial gifts you can get is really more common than you think. Wall crosses, or other religious symbols, are extremely popular because they offer a few words of wisdom and comfort to the bereaved. Gift shops, both online and in-person, often sell these beautiful pieces of art.
Honestly, pretty much anything you select, whether it be flowers, a plaque or a garden stone, will bring comfort to your friend or family member who's grieving.
Also See:
Personalize a Memorial Service