3 minutes reading time
(590 words)
Start a Funeral and Memorial Program Business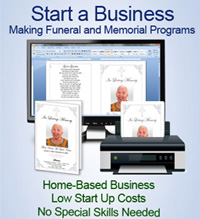 Working from home and owning a business has never been more convenient or easier to do. Because of today's advancing technology - and sometimes uncertain economy and job market -- more people are looking to self-employment as an option and are starting companies that you normally wouldn't expect to see. Creating printed funeral and memorial programs and is one of those companies.
Because there will always be funeral and memorial services, there is an equal need for funeral and memorial programs and keepsakes. Sometimes, basic funeral programs or booklets may be provided by funeral homes and included as part of the funeral costs. Design options are typically limited, so customers often use outside companies to create the programs that they want.
With so many families seeking outside companies for funeral stationery, a funeral programs business is a potentially lucrative venture. All you need to do is get started so you help others during their time of need.
Getting Started
You don't need a lot of seed money to get your business off the ground, but you should have some motivation and creativity. These guidelines provide an overall view of what you need to start a funeral program business:
1. Decide what type of service you want to offer: Will you create funeral programs for others and print them, or have them print their own? What styles, layouts will you offer?

2. Select a name: Look around online to get some ideas. You want a title that is catchy, yet speaks to the type of business you are in. If you want to form a corporation or LLC, it's best to seek legal advice on that matter, since the rules are different in all 50 states.
3. Get the proper equipment: Besides a reliable Internet provider and telephone service, you will want a good computer and printer. You will also need some word processing software such as Microsoft Word (PCs and Macs) or Apple iWorks' Pages for Mac users.
4. Use funeral program templates. Pre-designed templates will help you create beautiful program in a fraction of the time. For a minimal price you can instantly offer a wide variety of styles, themes and layouts without the hassle of having to design them yourself. Elegant Memorials offers many different funeral program packages to help you get started.
5. Learn and understand the funeral and memorial business. Although you will be providing a design and printing service, you will need to understand basic information about the funeral and memorial industry. You customers will expect you to know the basics about funerals and memorials, and about the information that typically belongs in a program. Do a little research about how funerals and memorials are conducted, and get some basic information about what poems, scriptures songs, obituaries and other important information that you will be including in the programs for your customers.
6. Draw up your price list: Look at comparable companies online to get an idea of how much programs cost. Make sure you leave enough room to make a profit, but don't out price yourself either.
7. Market yourself both online and in person: Get business cards and distribute them wherever you go. Create a website and Social Media pages, such as Facebook, Pinterest and Google Plus.


Believe in Yourself
If you have faith and confidence that your business can be success, then it probably will be. Make time to grow your business. All new businesses take awhile to get off the ground. However, you will only get from your business exactly what you put into it.
Related Posts