2 minutes reading time
(370 words)
New Templates Allow You To Change Background Color
Elegant Memorials now sells funeral program templates which allow you to change the color of the background with just a few simple clicks.
There are many ways of personalizing a funeral program from adding sentimental pictures and graphics to adjusting the size and style of font. Now, users can further customize a program by choosing templates that allow you to change background colors as well.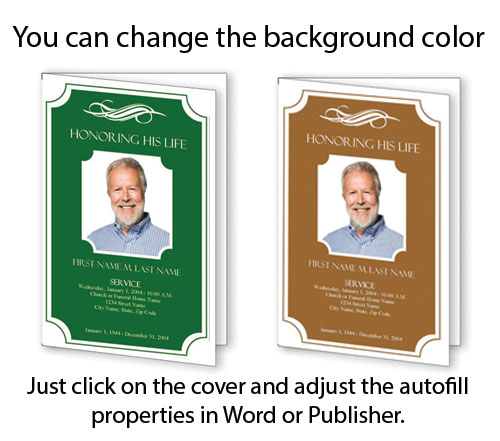 This option makes the funeral program templates more versatile by giving customers the opportunity to change the program's colors to one more desirable. Many prefer to have the program highlighted with their loved one's favorite color or a hue that will fit the theme of the funeral, memorial or Celebration of Life ceremony.
You can change a single color or create a beautiful gradient of colors. What's great is that you can experiment to get whatever color scheme you want. Users can select to change the color of the borders, background and text.
Changing Background Colors
Changing the background color is easy:
1. Select the top lavender background box; right click and choose "Format Autoshape."
2. Choose the "Colors and Lines" tab.
3. Click the down arrow on the fill color box and choose the color that you want.
5. Hit OK to save changes.
6. Do the same for the bottom lavender box.
7. Make sure to delete this box when done by selecting the edge of the box and pressing delete or backspace.
The backgrounds use autofill shapes, so you can easily change colors by accessing the shape properties.
Changing Border Colors
The colors of borders or picture frames can easily be changed to correspond to the rest of the funeral program's color scheme. This can be done by:
1. Select and right click inside the grey picture box and choose "Format Autoshape."
2. Choose "Colors and Lines" tab.
3. Under "Fill," click "Fill Effects."
4. Click "Picture" tab and select picture. Click OK.
5. Click OK to save changes.
6. Delete this box when done by selecting the edge of the box and pressing "backspace" or "delete."
Related Posts