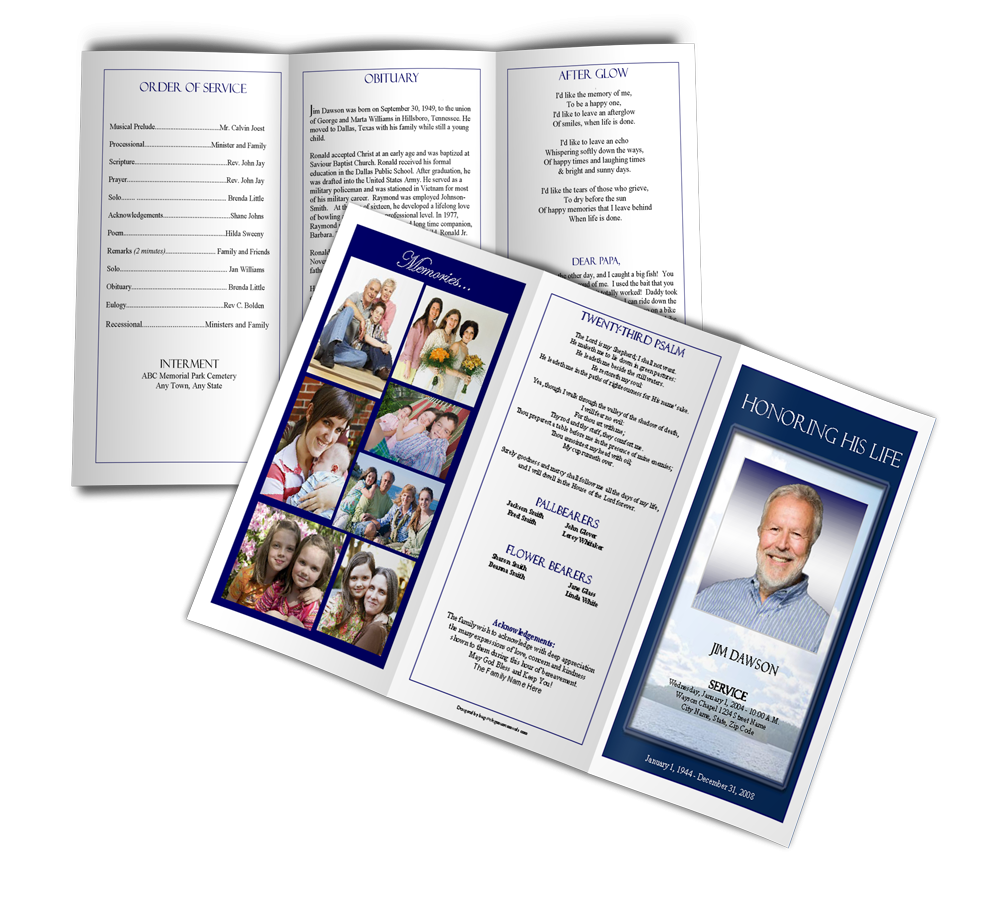 Do you want your funeral program to look like it was designed by a professional designer? It's not as hard as you think. Here are 5 tips and techniques you can use on your DIY Funeral Program that will make you program look like it was professionally designed
1. Choose a good funeral program cover photo.
A grainy, unprofessional cover photo will ruin a beautifully designed program. If possible, use a photo from a professional photo studio, with the focus above the shoulders. If you do not have a studio photo, try and select a photo that is clear with the focus on the deceased. Also, choose a photo with minimal distractions, such as other people and distracting backgrounds. For more information, see our article "Funeral Program Pictures"

If you have to use a picture that has other elements in it, consider having a professional edited. A professional can remove unwanted elements from photos, as well as adjust lighting, shadows and colors. You can also experiment with some do it yourself photo editing software such as Photoshop, Photoshop Elements, Microsoft Paint and even Microsoft Word.
2. Add Additional family photos and clipart
You can add additional photos, images and clipart to your programs. Adding a portrait of the deceased engaging in his or her favorite activity, and adding family photos and photo collages turn your program into a cherished keepsake for friends and family. Funeral and Memorial Clipart can also help personalize your program. Adding a color coordinated flower clipart or cross can give you program a very personalized and elegant look. However, do not overdo it. Too much clipart and photos can make your program look crowded and distracting. Make sure you use a funeral program template that has enough pages to accommodate your clipart and photos. Get more information about funeral program collages from our website.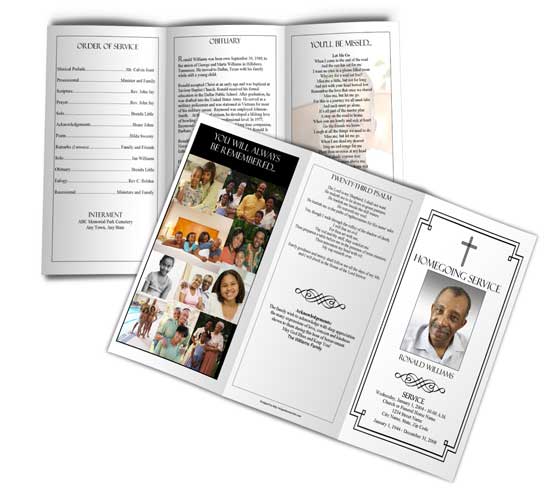 3. Experiment with Autoshapes
Microsoft Word autoshapes which are various shapes that you can draw on your funeral program. You can then add photos and images to them to give your photos a "frame" effect. You can display your cover photo in an oval by drawing an oval autoshape, and using the "fill" feature to add a photo. There are many autoshapes to choose from including hearts, stars, ovals, and wave banners. Again, don't overdo it!
4. Experiment with Fonts and Word Art
You can make your funeral program titles elegant by experimenting with font styles, sizes and colors. Experiment with different fonts for your titles and headings. You can choose different colors other than standard black to accent your program. You can also capitalize the first letter of your title for a fancy "Drop Letter" style. These fonts styles should be accent. Make sure your main text is created in a very legible font so that it can be easily read.
5. Use Quality Paper
Using thicker, quality paper can give you finished program a polished and professional look. A paper's thickness is called its "weight" (stated in pounds). The higher the weight is, the thicker and more durable the paper. Higher weight paper also allows less light to pass through (less "showthrough"). You will also want consider other paper characteristics such as brightness, color, finish and texture. For a detailed explanation of paper options, see our article "Funeral Program Paper".