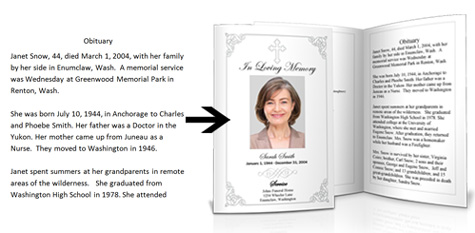 Funeral programs honor and celebrate the life of the deceased. Programs usually contain photos information about the funeral or memorial service, poems, scriptures and an obituary. The obituary can be a very imporant part of the funeral or memorial program or bulletin. Writing an obituary for the funeral program can seem challenging, but it doesn't have to be. Here are some tips to help you write the perfect obituary for your funeral or memorial bulletin.
1. Start off with a few key points, and build on it
You may have already written a short obituary for the newspaper or funeral home as an announcent. You can start with that. The short obituary probably already has full name, place of residence, date of birth and death, and funeral or memorial details.
2. Add in personal details
You can then include more details in describing the person's life. It can include hobbies, interests or special qualities that they possessed. Did they enjoy traveling or writing poetry? Were they well-known among friends and family for telling jokes? Did they work for a special cause? These are the kinds of details you can add to the standard obituary to help those attending a memorial service to remember the person's life.
3. List family members
This is an important and sometimes tedious part of the obituary. Of course, include the spouse of the deceased and their children. You should also list siblings. Depending on the size of the family, you may want to stop there, or you may continue and list extended family members.
4. Look at examples
There are many obituary examples on the internet. You can also consult the newspaper or funeral homes to read examples of obituaries to help you get started.
Elegant Memorials has many resources to help you write an obituary.