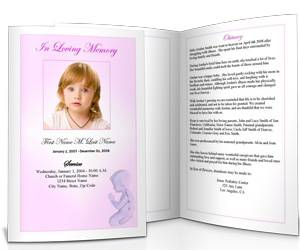 One of the more somber, yet important, funeral programs to design are ones for a baby or child who died. Chances are his or her death was unexpected, so creating a funeral program to go along with what will most likely be an extremely sad affair will be quite difficult. But it's not impossible.
For starters, make sure to add as many images of the young one as you can to program as this will conjure up good memories. It is unnecessary to add a cause of death, unless the family insists. Also, don't forget to include everyone in the obituary that you use.
Keep the funeral program light-hearted. Seriousness during this time can only lead to more heartache by the family. A religious theme is a good idea if the family wants it. Some may be too grief-stricken to think of their children in heaven.
Finally, make extra copies, and give the immediate family quite a few copies to keep and reflect upon in years to come.
For more resources on planning a child's service or creating a funeral program for a child please see:
Planning a Child's Memorial Service