Funeral programs can be a treasured keepsake when a memorial photo collage is added. You could, of course use Microsoft Word or Publisher to make your collage. However, if you are working with many photos, and want something a little quick and easier for layout, you may want to try some of the free collage making software websites. You can quickly make photo collages, save them into one photo, and then easily inserted into your funeral program.
We've reviewed four collage making websites to help you decide which will work best for your project.
Four Free Photo Editing and Collage Design Programs
PicMonkey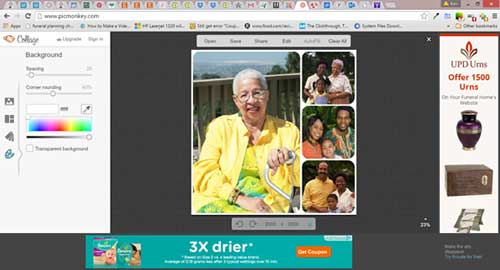 Picmonkey is a popular and well known free graphics program. It's very simple to use. Simply click the collage button at the top of the website page and the file upload window comes up immediately. Upload your photos first, then drag and drop into pre-formatted collage sheets. There are many different collage layouts to choose from and you can easily round the corners of your photos and change spacing and background colors. When done, save the file to your computer and insert into your program or keepsake.
Fotoflexer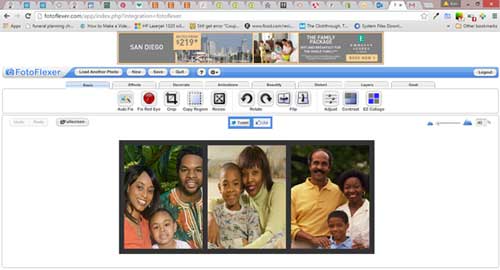 This website is pretty easy as well. To get started, click the Upload Photo Button. Photos can be positioned on blank canvas where you can control the layout, or you can use the EZ collage feature for pre-formatted collage feature. It's a little awkward getting to the EZ collage/editor. They make you upload a photo first. Once a photo is uploaded, you can click the EZ collage button. These collage templates are pretty basic, mostly square shapes. Once you have inserted your photos into the collage, hit the "customize" button to use a wide variety of features, including special graphic effects and styles, borders, and text captions. There seems to be a lot of functionality, but the interface isn't as easy as it could be. You can probably get good results; you just have to spend time learning the system.
You can save your creation to your computer.
piZap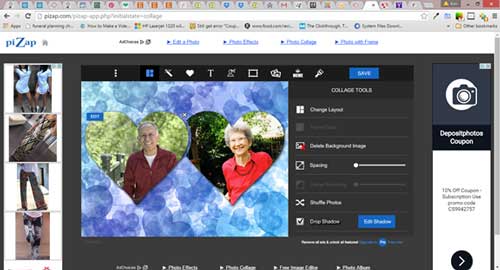 Pizap has a robust collage editor. It had many different shapes, including hearts, puzzle and many different collage designs. It also had an extensive collections of decorate collage sheets, frames and borders. I really enjoyed testing different collage designs on this website. It also has other more advanced enhancement features like frames and borders.
When saving my finished image, they wanted you to log into Facebook or Twitter Account to save. Create an account beforehand to avoid using your Facebook or Twitter account to save.
PhotoCat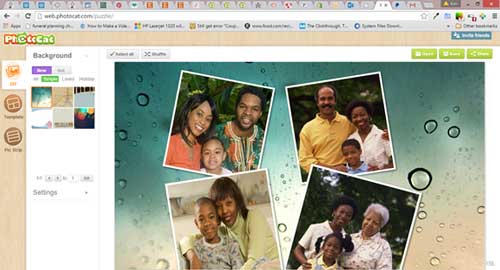 Very simple interface, simply click the "Web" option, then choose the collage option and begin making a collage immediately in the editor window. The collage sheets are primarily square shapes, however, this website does have nicely decorated collage sheets. You can also add frames, text and other enhancements to your photos from here. I like the photo background sheets because you can freely move the photos around. This program has a good balance between ease of use and functionality. I loved the collage background design pages. They could have a few more collage sheet designs.