Bible Verses for Funerals - Funeral Scripture Verses
Bible scriptures are frequently used in Christian funerals and memorial services, as well as in funeral programs and other funeral and memorial keepsakes such as memorial bookmarks and memorial prayer cards. Below lists some commonly used scriptures that may be incorporated into your memorial sevices. Funeral bible verses can be read at the service, or used in a variety of memorial printed material. Also see: funeral readings -- funeral and memorial poems -- funeral quotes and prayers.


The Psalms 23
The LORD Is My Shepherd
A Psalm of David
1 The LORD is my shepherd; I shall not want.
2 He maketh me to lie down in green pastures:
he leadeth me beside the still waters.
3 He restoreth my soul:
he leadeth me in the paths of righteousness for his name's sake.
4 Yea, though I walk through the valley of the shadow of death,
I will fear no evil: for thou art with me;
thy rod and thy staff they comfort me.
5 Thou preparest a table before me in the presence of mine enemies:
thou anointest my head with oil; my cup runneth over.
6 Surely goodness and mercy shall follow me all the days of my life:
and I will dwell in the house of the LORD for ever.
Romans 6:3-9
3 Do you not know that all of us who have been baptized into Christ Jesus were baptized into his death? 4 We were buried therefore with him by baptism into death, so that as Christ was raised from the dead by the glory of the Father, we too might walk in newness of life. 5 For if we have been united with him in a death like his, we shall certainly be united with him in a resurrection like his. 6 We know that our old self was crucified with him so that the sinful body might be destroyed, and we might no longer be enslaved to sin. 7 For he who has died is freed from sin. 8 But if we have died with Christ, we believe that we shall also live with him. 9 For we know that Christ being raised from the dead will never die again; death no longer has dominion over him.
Romans 8:14-23
14 For all who are led by the Spirit of God are sons of God. 15 For you did not receive the spirit of slavery to fall back into fear, but you have received the spirit of sonship. When we cry, "Abba! Father!" 16 it is the Spirit himself bearing witness with our spirit that we are children of God, 17 and if children, then heirs, heirs of God and fellow heirs with Christ, provided we suffer with him in order that we may also be glorified with him. 18 I consider that the sufferings of this present time are not worth comparing with the glory that is to be revealed to us. 19 For the creation waits with eager longing for the revealing of the sons of God; 20 for the creation was subjected to futility, not of its own will but by the will of him who subjected it in hope; 21 because the creation itself will be set free from its bondage to decay and obtain the glorious liberty of the children of God. 22 We know that the whole creation has been groaning in travail together until now; 23 and not only the creation, but we ourselves, who have the first fruits of the Spirit, groan inwardly as we wait for adoption as sons, the redemption of our bodies.

Romans 8:3l-39
31 What then shall we say to this? If God is for us, who is against us? 32 He who did not spare his own Son but gave him up for us all, will he not also give us all things with him? 33 Who shall bring any charge against God's elect? It is God who justifies; 34 who is to condemn? Is it Christ Jesus, who died, yes, who was raised from the dead, who is at the right hand of God, who indeed intercedes for us? 35 Who shall separate us from the love of Christ? Shall tribulation, or distress, or persecution, or famine, or nakedness, or peril, or sword? 36 As it is written, "For thy sake we are being killed all the day long; we are regarded as sheep to be slaughtered." 37 No, in all these things we are more than conquerors through him who loved us. 38 For I am sure that neither death, nor life, nor angels, nor principalities, nor things present, nor things to come, nor powers, 39 nor height, nor depth, nor anything else in all creation, will be able to separate us from the love of God in Christ Jesus our Lord.

Romans 14:7-9
7 None of us lives to himself, and none of us dies to himself. 8 If we live, we live to the Lord, and if we die, we die to the Lord; so then, whether we live or whether we die, we are the Lord's. 9 For to this end Christ died and lived again, that he might be Lord both of the dead and of the living

I Corinthians 15:20-23
20 But in fact Christ has been raised from the dead, the first fruits of those who have fallen asleep. 21 For as by a man came death, by a man has come also the resurrection of the dead. 22 For as in Adam all die, so also in Christ shall all be made alive. 23 But each in his own order: Christ the first fruits, then at his coming those who belong to Christ

I Corinthians 15:51-57
51 Lo! I tell you a mystery. We shall not all sleep, but we shall all be changed, 52 in a moment, in the twinkling of an eye, at the last trumpet. For the trumpet will sound, and the dead will be raised imperishable, and we shall be changed. 53 For this perishable nature must put on the imperishable, and this mortal nature must put on immortality. 54 When the perishable puts on the imperishable, and the mortal puts on immortality, then shall come to pass the saying that is written: "Death is swallowed up in victory." 55 "O death, where is thy victory? O death, where is thy sting?" 56 The sting of death is sin, and the power of sin is the law. 57 But thanks be to God, who gives us the victory through our Lord Jesus Christ.

2 Corinthians 5:1
1 For we know that if the earthly tent we live in is destroyed, we have a building from God, a house not made with hands, eternal in the heavens.

Philippians 3:20-21
20 But our commonwealth is in heaven, and from it we await a Savior, the Lord Jesus Christ, 21 who will change our lowly body to be like his glorious body, by the power which enables him even to subject all things to himself.


2 Timothy 2:8-13
8 Remember Jesus Christ, risen from the dead, descended from David, as preached in my gospel, 9 the gospel for which I am suffering and wearing fetters like a criminal. But the word of God is not fettered. 10 Therefore I endure everything for the sake of the elect, that they also may obtain salvation in Christ Jesus with its eternal glory. 11 The saying is sure: If we have died with him, we shall also live with him; 12 if we endure, we shall also reign with him; if we deny him, he also will deny us; 13 if we are faithless, he remains faithful--for he cannot deny himself.

1 John 3:1-2
1 That which was from the beginning, which we have heard, which we have seen with our eyes, which we have looked upon and touched with our hands, concerning the word of life-- 2 the life was made manifest, and we saw it, and testify to it, and proclaim to you the eternal life which was with the Father and was made manifest to us"

Revelation 21:1-5
1 Then I saw a new heaven and a new earth; for the first heaven and the first earth had passed away, and the sea was no more. 2 And I saw the holy city, new Jerusalem, coming down out of heaven from God, prepared as a bride adorned for her husband; 3 and I heard a loud voice from the throne saying, "Behold, the dwelling of God is with men. He will dwell with them, and they shall be his people, and God himself will be with them; 4 he will wipe away every tear from their eyes, and death shall be no more, neither shall there be mourning nor crying nor pain any more, for the former things have passed away."
Create an Obituary Program...It's Easy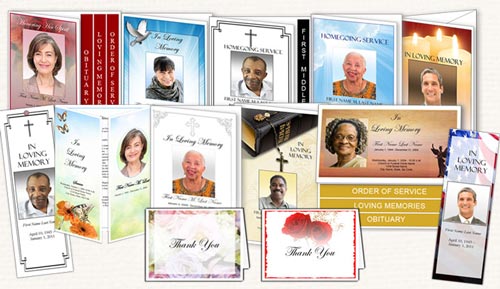 Professional Designs and Layouts formatted using Microsoft Word or Publisher or MAC Pages
All wording can be changed and edited, including the program title
Flexible Designs and Layout
Instant Download and Live customer support

Revelation 21:6-7
6 And he said to me, "It is done! I am the Alpha and the Omega, the beginning and the end. To the thirsty I will give from the fountain of the water of life without payment. 7 He who conquers shall have this heritage, and I will be his God and he shall be my son.


Seeing the crowds, he went up on the mountain, and when he sat down his disciples came to him. 2 And he opened his mouth and taught them, saying: 3 "Blessed are the poor in spirit, for theirs is the kingdom of heaven. 4 "Blessed are those who mourn, for they shall be comforted. 5 "Blessed are the meek, for they shall inherit the earth. 6 "Blessed are those who hunger and thirst for righteousness, for they shall be satisfied. 7 "Blessed are the merciful, for they shall obtain mercy. 8 "Blessed are the pure in heart, for they shall see God. 9 "Blessed are the peacemakers, for they shall be called sons of God. 10 "Blessed are those who are persecuted for righteousness' sake, for theirs is the kingdom of heaven. 11 "Blessed are you when men revile you and persecute you and utter all kinds of evil against you falsely on my account. 12 Rejoice and be glad, for your reward is great in heaven, for so men persecuted the prophets who were before you.

Matthew 11:25-30
25 At that time Jesus declared, "I thank thee, Father, Lord of heaven and earth, that thou hast hidden these things from the wise and understanding and revealed them to babes; 26 yea, Father, for such was thy gracious will. 27 All things have been delivered to me by my Father; and no one knows the Son except the Father, and no one knows the Father except the Son and any one to whom the Son chooses to reveal him. 28 Come to me, all who labor and are heavy laden, and I will give you rest. 29 Take my yoke upon you, and learn from me; for I am gentle and lowly in heart, and you will find rest for your souls. 30 For my yoke is easy, and my burden is light."

Luke 7:11-17
11 Soon afterward he went to a city called Na'in, and his disciples and a great crowd went with him. 12 As he drew near to the gate of the city, behold, a man who had died was being carried out, the only son of his mother, and she was a widow; and a large crowd from the city was with her. 13 And when the Lord saw her, he had compassion on her and said to her, "Do not weep." 14 And he came and touched the bier, and the bearers stood still. And he said, "Young man, I say to you, arise." 15 And the dead man sat up, and began to speak. And he gave him to his mother. 16 Fear seized them all; and they glorified God, saying, "A great prophet has arisen among us!" and "God has visited his people!" 17 And this report concerning him spread through the whole of Judea and all the surrounding country.

Luke 23:, 39- 43
39 One of the criminals who were hanged railed at him, saying, "Are you not the Christ? Save yourself and us!" 40 But the other rebuked him, saying, "Do you not fear God, since you are under the same sentence of condemnation? 41 And we indeed justly; for we are receiving the due reward of our deeds; but this man has done nothing wrong." 42 And he said, "Jesus, remember me when you come into your kingdom." 43 And he said to him, "Truly, I say to you, today you will be with me in Paradise."

John 5:24-29
24 Truly, truly, I say to you, he who hears my word and believes him who sent me, has eternal life; he does not come into judgment, but has passed from death to life. 25 "Truly, truly, I say to you, the hour is coming, and now is, when the dead will hear the voice of the Son of God, and those who hear will live. 26 For as the Father has life in himself, so he has granted the Son also to have life in himself, 27 and has given him authority to execute judgment, because he is the Son of man. 28 Do not marvel at this; for the hour is coming when all who are in the tombs will hear his voice 29 and come forth, those who have done good, to the resurrection of life, and those who have done evil, to the resurrection of judgment.

John 6:37-40
37 All that the Father gives me will come to me; and him who comes to me I will not cast out. 38 For I have come down from heaven, not to do my own will, but the will of him who sent me; 39 and this is the will of him who sent me, that I should lose nothing of all that he has given me, but raise it up at the last day. 40 For this is the will of my Father, that every one who sees the Son and believes in him should have eternal life; and I will raise him up at the last day."

John 11: 17-27
17 Now when Jesus came, he found that Laz'arus had already been in the tomb four days. 18 Bethany was near Jerusalem, about two miles off, 19 and many of the Jews had come to Martha and Mary to console them concerning their brother. 20 When Martha heard that Jesus was coming, she went and met him, while Mary sat in the house. 21 Martha said to Jesus, "Lord, if you had been here, my brother would not have died. 22 And even now I know that whatever you ask from God, God will give you." 23 Jesus said to her, "Your brother will rise again." 24 Martha said to him, "I know that he will rise again in the resurrection at the last day." 25 Jesus said to her, "I am the resurrection and the life; he who believes in me, though he die, yet shall he live, 26 and whoever lives and believes in me shall never die. Do you believe this?" 27 She said to him, "Yes, Lord; I believe that you are the Christ, the Son of God, he who is coming into the world."

Ecclesiastes 3:1-11
1 For everything there is a season, and a time for every matter under heaven: 2 a time to be born, and a time to die; a time to plant, and a time to pluck up what is planted; 3 a time to kill, and a time to heal; a time to break down, and a time to build up; 4 a time to weep, and a time to laugh; a time to mourn, and a time to dance; 5 a time to cast away stones, and a time to gather stones together; a time to embrace, and a time to refrain from embracing; 6 a time to seek, and a time to lose; a time to keep, and a time to cast away; 7 a time to rend, and a time to sew; a time to keep silence, and a time to speak; 8 a time to love, and a time to hate; a time for war, and a time for peace. 9 What gain has the worker from his toil? 10 I have seen the business that God has given to the sons of men to be busy with. 11 He has made everything beautiful in its time; also he has put eternity into man's mind, yet so that he cannot find out what God has done from the beginning to the end.

Isaiah 35:1-6
1 The wilderness and the dry land shall be glad, the desert shall rejoice and blossom; like the crocus 2 it shall blossom abundantly, and rejoice with joy and singing. The glory of Lebanon shall be given to it, the majesty of Carmel and Sharon. They shall see the glory of the LORD, the majesty of our God. 3 Strengthen the weak hands, and make firm the feeble knees. 4 Say to those who are of a fearful heart, "Be strong, fear not! Behold, your God will come with vengeance, with the recompense of God. He will come and save you." 5 Then the eyes of the blind shall be opened, and the ears of the deaf unstopped; 6 then shall the lame man leap like a hart, and the tongue of the dumb sing for joy. For waters shall break forth in the wilderness, and streams in the desert;

Isaiah 41:8-10
8 But you, Israel, my servant, Jacob, whom I have chosen, the offspring of Abraham, my friend; 9 you whom I took from the ends of the earth, and called from its farthest corners, saying to you, "You are my servant, I have chosen you and not cast you off"; 10 fear not, for I am with you, be not dismayed, for I am your God; I will strengthen you, I will help you, I will uphold you with my victorious right hand.

Isaiah 61.1-3
1 The Spirit of the Lord GOD is upon me, because the LORD has anointed me to bring good tidings to the afflicted; he has sent me to bind up the brokenhearted, to proclaim liberty to the captives, and the opening of the prison to those who are bound; 2 to proclaim the year of the LORD's favor, and the day of vengeance of our God; to comfort all who mourn; 3 to grant to those who mourn in Zion--to give them a garland instead of ashes, the oil of gladness instead of mourning, the mantle of praise instead of a faint spirit; that they may be called oaks of righteousness, the planting of the LORD, that he may be glorified.

Zephaniah 3:16-20
17 The LORD, your God, is in your midst, a warrior who gives victory; he will rejoice over you with gladness, he will renew you in his love; he will exult over you with loud singing 18 as on a day of festival. "I will remove disaster from you, so that you will not bear reproach for it. 19 Behold, at that time I will deal with all your oppressors. And I will save the lame and gather the outcast, and I will change their shame into praise and renown in all the earth. 20 At that time I will bring you home, at the time when I gather you together; yea, I will make you renowned and praised among all the peoples of the earth, when I restore your fortunes before your eyes," says the LORD.

Ephesians 3:14-21
14 For this reason I bow my knees before the Father, 15 from whom every family in heaven and on earth is named, 16 that according to the riches of his glory he may grant you to be strengthened with might through his Spirit in the inner man, 17 and that Christ may dwell in your hearts through faith; that you, being rooted and grounded in love, 18 may have power to comprehend with all the saints what is the breadth and length and height and depth, 19 and to know the love of Christ which surpasses knowledge, that you may be filled with all the fullness of God. 20 Now to him who by the power at work within us is able to do far more abundantly than all that we ask or think, 21 to him be glory in the church and in Christ Jesus to all generations, for ever and ever. Amen.
Add Funeral Scriptures to your Memorials Cards and Programs
Download Edit Print
Templates use Microsoft Word or Publisher or Apple Pages
Many designs layouts to suit you needs
No Waiting -- Download and edit in minutes
Timothy 4:6-8
6 For I am already on the point of being sacrificed; the time of my departure has come. 7 I have fought the good fight, I have finished the race, I have kept the faith. 8 Henceforth there is laid up
for me the crown of righteousness, which the Lord, the righteous judge, will award to me on that Day, and not only to me but also to all who have loved his appearing.

Peter 1:3-9
3 Blessed be the God and Father of our Lord Jesus Christ! By his great mercy we have been born anew to a living hope through the resurrection of Jesus Christ from the dead, 4 and to an inheritance which is imperishable, undefiled, and unfading, kept in heaven for you, 5 who by God's power are guarded through faith for a salvation ready to be revealed in the last time. 6 In this you rejoice, though now for a little while you may have to suffer various trials, 7 so that the genuineness of your faith, more precious than gold which though perishable is tested by fire, may redound to praise and glory and honor at the revelation of Jesus Christ. 8 Without having seen him you love him; though you do not now see him you believe in him and rejoice with unutterable and exalted joy. 9 As the outcome of your faith you obtain the salvation of your souls.

Matthew 6:19-23
19 "Do not lay up for yourselves treasures on earth, where moth and rust consume and where thieves break in and steal, 20 but lay up for yourselves treasures in heaven, where neither moth nor rust consumes and where thieves do not break in and steal. 21 For where your treasure is, there will your heart be also. 22 "The eye is the lamp of the body. So, if your eye is sound, your whole body will be full of light; 23 but if your eye is not sound, your whole body will be full of darkness. If then the light in you is darkness, how great is the darkness!

John 3:13-17
13 No one has ascended into heaven but he who descended from heaven, the Son of man. 14 And as Moses lifted up the serpent in the wilderness, so must the Son of man be lifted up, 15 that whoever believes in him may have eternal life." 16 For God so loved the world that he gave his only Son, that whoever believes in him should not perish but have eternal life. 17 For God sent the Son into the world, not to condemn the world, but that the world might be saved through him.

John 10:11-18
11 I am the good shepherd. The good shepherd lays down his life for the sheep. 12 He who is a hireling and not a shepherd, whose own the sheep are not, sees the wolf coming and leaves the sheep and flees; and the wolf snatches them and scatters them. 13 He flees because he is a hireling and cares nothing for the sheep. 14 I am the good shepherd; I know my own and my own know me, 15 as the Father knows me and I know the Father; and I lay down my life for the sheep. 16 And I have other sheep, that are not of this fold; I must bring them also, and they will heed my voice. So there shall be one flock, one shepherd. 17 For this reason the Father loves me, because I lay down my life, that I may take it again. 18 No one takes it from me, but I lay it down of my own accord. I have power to lay it down, and I have power to take it again; this charge I have received from my Father."

John 10:27-30
27 My sheep hear my voice, and I know them, and they follow me; 28 and I give them eternal life, and they shall never perish, and no one shall snatch them out of my hand. 29 My Father, who has given them to me, is greater than all, and no one is able to snatch them out of the Father's hand.

Isaiah 25:7-9
7 And he will destroy on this mountain the covering that is cast over all peoples, the veil that is spread over all nations. 8 He will swallow up death for ever, and the Lord GOD will wipe away tears from all faces, and the reproach of his people he will take away from all the earth; for the LORD has spoken. 9 It will be said on that day, "Lo, this is our God; we have waited for him, that he might save us. This is the LORD; we have waited for him; let us be glad and rejoice in his salvation."