Funeral Program Wording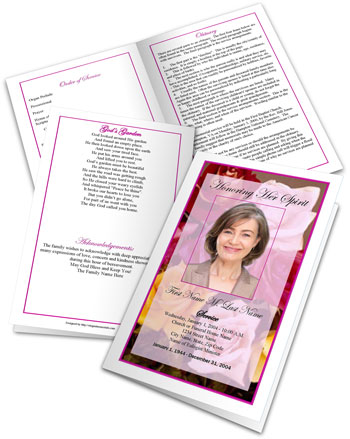 Funeral Programs, which are handouts given at funeral and memorials services can can many different types of wording. If you are creating a funeral program, you will need to understand that wording can apply to many different parts of the funeral program. Here are some different types of wording found in funeral programs.

Funeral Program Title Wording
Funeral program title wording is tells how you choose to honor your loved one. It can also tell what kind of service you are having. Titles to remember your loved one can be "In Loving Memory", "In Remembrance", "Forever in our Hearts", or anything you choose that describes the way you want to honor your loved one. You can also use titles such as "A Celebration of Life Service", "Homegoing Service", or "Memorial Ceremony". Here is a list of titles for remembering your loved one that you can use.
Funeral Order of Service Wording
Wording may also apply to the funeral order of service or funeral outline which is almost always listed an a program, booklet or brochure. The order of service tells the events that will take place at the funeral or memorial. This can vary greatly depending on the kind of service you are having. The general wording will include events like, musical prelude or selection, scriptures and prayers, eulogy and obituary readings and tributes. Sometimes listed beside these events are the names of the persons who will be participating. See our article on funeral order of service wording for more specific details.
Obituary Wording
Another important part of the program is the obituary or funeral tribute. The obituary gives details of the deceased person's life and accomplishments. Obituary wording can be very detailed, and will depend on the circumstances of death and the life of the deceased. There are a few different types and styles of obituary, depending on how you intend to use it. See our articles on How to Write an Obituary and writing an obituary for a funeral program for more information.
Thank You and Acknowledgement Wording
Funeral Programs often contain an area of acknowledgement or thank you. This short paragraph usually thanks friends and family for acts of kindness, gifts, cards and. You can also use this section to thanks others such as medical staff, hospice or any other people that should receive special acknowledgment.
You can find more details by reading articles on what goes in a funeral program and looking at a sample funeral program.
Make The Perfect Funeral Program ... It's Easy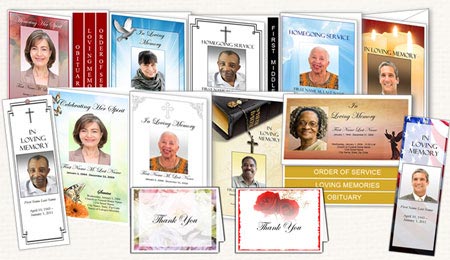 Professional Designs formatted using Microsoft Word or Publisher
All wording can be changed, including the program title
Flexible Designs and Layout
Instant Download and Live customer support