Funeral Program Design Ideas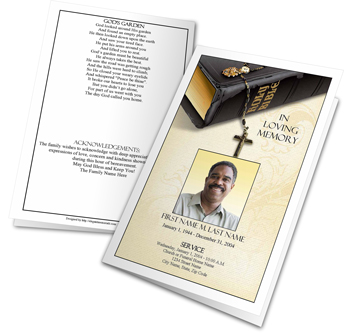 You can quickly and easily produce professional-looking funeral program designs right at home with common software and web tools. You can use tips, tools and techniques that professional designers have been using for years to make your programs look unique and creative. There are many quick and easy design and graphics tools available in Microsoft Word and Publisher and other programs and online applications that can help you enhance your DIY funeral programs and keepsakes. Now you can make beautiful, professional looking funeral programs and keepsakes by using pre-formatted templates and a few quick design ideas and tips.

Photo Editing and Cleanup
Great looking photos are key to a profesional looking funeral programs. Editing your photos will give your funeral programs and other keepsakes a polished look. Photo editing tools resize, clean-up and enhance old photos in just a few steps. Some of the ways you can edit your photos include:
1. Resizing and Cropping
2. Brighten and Contrast
3. Removing Backgrounds and Distractions

Editing photos is easier than you think. Microsoft Word and Publisher have "one-click" tools that will allow you to quickly make corrections to your photos. See our article on Basic Photo Editing using Microsoft Word or Publisher for more information. You can also find good photo manipulation tools online for free.For more advanced image editing, you can check out Microsoft Image Editor, Photoshop Elements, or even Adobe Photoshop.
Clipart and Images
Inserting Clipart and other images into funeral programs and booklets is a quick and easy way to add design elements and visual interest. It can also help personalize your program and make it unique to your loved one. You can take a plain or conservative program and add a clipart image of your loved one's favorite flower. You can add a clipart border around a photo or poem and you can also add religious symbols to your program. There are also flourishes, separators, nature images and many other to help convey your loved ones personality, or how you feel about your loved one. Elegant Memorials sells easy to use clipart packages to help you quickly and easily get started decorating your programs, prayer cards and memorial bookmarks. For more information about clipart, see the article on using clipart in funeral programs and keepsakes.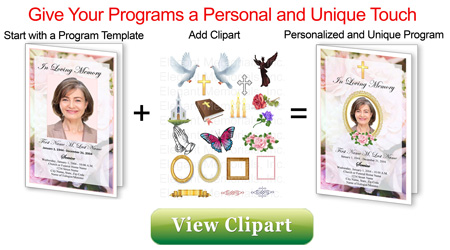 Frames and Borders
Adding frames or borders in Microsoft Word and Publisher on you photos and text are a great way to add extra design elements to your programs. You can "dress up" your photos and text by using many different border and framing styles including:
1. Add borders and frames in different colors, line styles and line thicknesses
2. Add shadows, glows, bevels
3. Add Picture styles which are a combination of borders, shadows, glows and other effects to product a unique presentation of your photo.

Microsoft Word or Publisher makes it very easy to add many different types of borders and frames to your photos. In Word 2010, in one click you can add a frame or border in many different styles. See our article on using Microsoft Word and Publisher frames, borders and autoshapes for more information.
Clipart Frames
Clipart frames are frame images that lay on top of photos that allow the photos to show through. These frames can be images of wooden, metalic or any color or thickness. Clipart Frames are perfect to showcase your perfect photo and also help enhance your funeral program photo collages.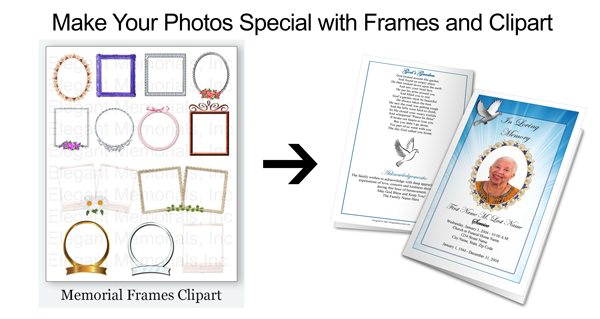 Autoshapes
Autoshapes are a great way to add visual design interest to your photos and text. Simply draw a shape onto your program, then perfectly fill the shape with pictures or text. Once an autoshape has been applied to a photo, you can also apply other Microsoft Word or Pubisher border styles.
Microsoft Word Art
Word Art is decorative text in Microsoft Word or Publisher. It's a feature that allows you to apply graphics effects such as shadows, gradients, outlines and 3D to regular words and phrases. It also allows you to skew, bend and stretch text. Simply highlight your text and select
Select the Perfect Funeral Program Design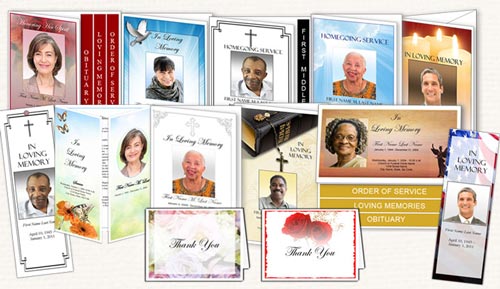 Professional Designs formatted using Microsoft Word or Publisher or MAC Pages
All wording can be changed, including the program title
Flexible Designs and Layout
Instant Download and Live customer support
Fonts
Fonts are very important part of a funeral program. Fonts can be the most important design element of your program. In additional to adding design, the right font can help you set the tone of your funeral service. Fonts can help convey serious, tradition, casual or cheerful tone. Fonts can also accent important information and increase readability for large amounts of text.
Your computer systems come with a wide variety of fonts, and sometimes software applications will add additional fonts. You can also pay for additional fonts. Free fonts are widely available on the internet. See our article on using fonts in funeral programs for more details.
Flourishes and Seperators
Flourishes and Separators help add visual interest while providing "white space" and separating different types of text and information. "White Space" increases readability. Adding a flourish or separator help give your program good color and design, while increasing readability and flow of the program.
Image Watermarks, Washouts and Color Distortions
Image Watermarks and Washouts allow photos to become lighter or more transparent. This allows the photo to be used as a background in which poems or other information can be typed over it giving a great design effect.