Make a Funeral Program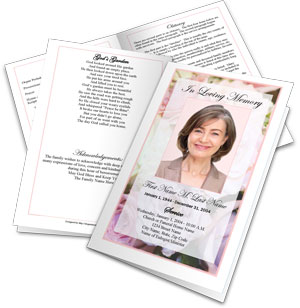 Funeral programs help you honor your loved one's memory, as well as give pertinent information about the service. A funeral program is a printed document that gives the events of the funeral or memorial service, and celebrates the life and milestones of the deceased. Funeral and memorial programs can also be distributed electronically, such as through email and posted to social media and memorial websites. Many people choose to make their own funeral programs. If you have word processing software and a printer, you can easily create a very special custom funeral program for your service. Here are some general instructions to help you make your own easy funeral program.

Pick a software program to use.
You will have to decide which software program you will use. Many people already have Microsoft Word installed on there computer, and are familiar with how to use the program. There are many funeral program templates that use Microsoft Word. Microsoft Word (MS Word) is a word processor, so placing pictures may not be as easy as using a desktop publishing program such as Microsoft Publisher or graphics program such as Photoshop Elements. If you are confused about which program to use, choose the program that you are most familiar with using, this will save a lot of time and frustration.
How to Make a Funeral Program on a MAC
Making a funeral program using a MAC is simple. Apple Mac computers come with a variety of software that can help you create a funeral program or use a funeral program template. IWorks Pages is a robust, but easy to use Word Processing/Desktop Publishing program that can be used to design your funeral or memorial program or booklet. You can also use Microsoft Word for MAC. You can use Adobe products such as Photoshop Elements or InDesign as well. If you are skilled using design programs, Adobe Photoshop can also be an option.
You will cut your time down significantly by using a funeral program template. Templates come in a wide variety of styles, themes, layouts and paper sizes. They also vary in pricing, some even are free. There are free editable funeral program templates from Microsoft Word template library. There is a variety of funeral program software including MS Word, MS Publisher, MAC Pages and OpenOffice just to name a few. You can find templates that can be edited in these software programs. When using a template sure you choose one or create a layout in a software application that you are already familiar with. You do not want to have to learn a new software program during this already busy and stressful time. If you do not want to use a template, you can design the template yourself, although this takes significantly more time. If designing your own template, you may need access to more sophisticated software programs such as Adobe Photoshop, Photoshop Elements, or Illustrator, just to name a few. You may also need to purchase stock photography, graphics and clipart from additional websites.
Choose a template design and paper size, or create your own design.
You may decide to pick a funeral program designs that reflects your loved one's style, such as a favorite color, flower or hobby. It is also very common to use religious images on the funeral program cover. The layout of the template is the paper size and the fold of the template. You can use a simple layout such as a bifold (single fold) layout that prints on standard letter sized paper, or you can use a trifold, graduated or step fold or large style layout. Choosing a professionally designed template will cut down on design time because it will already be laid out correctly and will print properly. Templates will help you make a beautiful custom funeral program in a fraction of the time and cost. For other options for getting funeral programs made, see our article on how to Order Funeral Programs.
Collect all the information that will be included in your program.
Take some time to decide what to write in a funeral program. If possible, try to get the information in electronic format. Information that is usually used in a program is:
Cover Photo

Additional family photos or photo collages

Memorial Clipart and Fancy Titles to make your program unique

Information of Pall Bearers or Flower Bearers

Thank you or Acknowledgement Information
Begin to type your information
Type (or cut and paste from other sources) the information into your funeral program template. You can also insert photos, memorial clipart images and make photo collages to celebrate the life of your loved one. We have a section on this website for funeral program design ideas, which gives ideas and tips on how to use words, photos and clipart to make your programs unique and memorable. Also, make sure you save your work frequently.
Make your program unique and original.
Even if you are using a template, you can put your own special design touches to make your program unique and reflect your loved one's personality. Adding additional clipart images such as flower, religious symbols, frames and borders can showcase photos and add personal flare. You can also add in personal notes from loved one, and sayings or quotes that your loved one may have liked. Adding these special touches can turn a program into a family keepsake.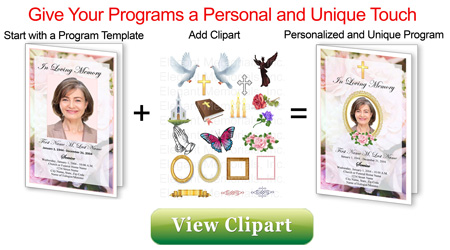 Once completed, proofread your program.
Proofreading is a very important step in making your program. Here are some quick tips for proofreading your program.
Run a spell check on your program
Print out and assemble and fold your program. This ensures that your pages and information are in the right order. Also, proofreading from a printout is better than trying to read from the screen.
Read your program aloud to double check for errors.
If possible, have another person read your funeral program.
When printing, make sure you have enough ink to print your programs.
When ink or toner begin to run low, colors will not print properly, so have additional ink on hand. See our article on printing funeral programs for more information Also, allow enough time for printing and folding. You can also take your finished funeral program to a print or copy shop to have them printed and folded.

Creating your own program can be a great experience. You will ensure that you have a program exactly like you want it, and it will reflect your loved one's uniqueness.
Make your own Funeral Programs...It's Easy