Memorial Cards
Memorial cards are keepsakes distributed at funerals, memorial services or celebrations of life ceremonies that provide lasting tributes to loved ones who died. These remembrance cards can be printed by funeral homes, ordered online, or you can make them yourself using templates. These cards contain basic information about the deceased person and are typically small enough to carry in a wallet or purse or book.
Today's technology, however, allows families to create and print several styles memorial cards from home, personalized with poems of photos, from templates designed by professionals such as Elegant Memorials. If you choose to make your own memorial card for a funeral, it can be a more time-efficient and cost-effective process to undertake. Elegant Memorials has funeral cards, memorial prayer cards, funeral bookmarks and funeral announcement card templates in many different colors, layouts and designs to help you make the perfect funeral or memorial card keepsake, announcement or invitation. There are many different funeral memorial card for funerals ideas in this article and on the Elegant Memorials website.
Memorial Cards for Funerals -- What's on a Memorial Card?
Memorial cards typically include some if not all the following information about the deceased person:
Name
Dates of birth and death
Favorite poem, prayer or verse
Funeral home
Cemetery and plot number
Personal photo or other image or symbol
Personal note from family
Types of Memorial Cards
There are several types of memorial cards to choose from, depending not only on your loved one's personality, but also what the family feels comfortable creating. Here are a few funeral memorial card ideas.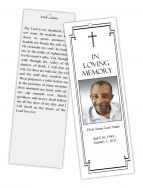 Memorial Bookmarks: Memorial bookmarks are can be given at funerals, memorials, and celebration of life services. These slender keepsakes usually have a decorative background, and a photo of the deceased, with the birth and death dates. The back can contain a poem, scripture personalized note or message. You can choose to order these keepsakes, or make them yourself using memorial bookmark templates.

Memorial Prayer Cards: This is one of the more common styles of memorial cards for funerals available and are not only

given out at a memorial celebrations, but included in thank you notes as well. This prayer card (or wallet card) typically has an image of a religious symbol or heartfelt image on the front and a prayer and personal information about the individual on the back. These cards are wallet sized, and are perfectly portable. This article on how to make prayer cards goes into more detail.

Folded Memorial Card: Similar to funeral brochure but smaller in size, this card is typically printed on card stock and contains biographical information about the deceased, as well as an image, poem or prayer and a note from the family. These cards are typically used at informal memorials, as well as wakes and viewings. They can also be used for funeral invitations. Funeral invitations can be used to invite family, friends and guests to funeral, viewing or memorial services and death anniversaries. These folded cards have room for service information and brief personal information about the deceased.
Funeral Announcement Cards: These cards are flat and the size of a post card. They print on cardstock on front and

back, and can easily be mailed. These cards are perfect for notifying family and friends of a loved one's passing, as well as serve as funeral and memorial invitations. These cards can have a cover photo, as well as the time and date information and location of the funeral or memorial ceremony.
Creating Memorial Cards at Home
There are many different memorial card template options available online. These templates come in a variety of styles, designs, themes, sizes and layouts and they work with different software programs such as Microsoft Word, Publisher, Pages, and OpenOffice. Here are a few tips to help you pick a template, create and print your memorial card.
Decide on a Memorial Card Design -- There are many different design and style options for memorial cards. You can choose a religious, scenic or floral design, or you can select a design by color, theme or hobby.
Decide on a Layout -- You can choose the paper size, styles and layout. Choose from flat funeral announcement cards, folded memorial cards, prayer cards or bookmarks. Choose small sized paper or larger sheets.
Gather the information that you want to include -- Depending on the layout of the card, select the information that you would like to include. Choose from poems, scriptures, prayers, life tributes, quotes or special notes.
Download a memorial card template -- Choose a template from a website. Make sure that you can download immediately. Make sure you select a template in a software program that you are comfortable with, and that it is properly installed on your computer. Make sure that you understand what information you can edit on your template (such as titles, and other textboxes). Select a company that provides customer service.
Proofread your work -- Once you have made the edits to your memorial card template, make sure you proofread your finished card. Have a second set of eyes look for typographical errors or mistakes before you print.
Print your Memorial Card -- Make sure you do a test print and cut or fold your card to verify that it is printing properly. Also, make sure you have enough ink on hand.
Create the Perfect Memorial Card for Funerals and Memorials

It's Easy...
Download. Edit. Print

Templates Use Microsoft Word or Publisher
Funeral Cards, Prayer Cards and More

Immediate Download