Funeral Information
Helpful Resources for Planning a Funeral
Planning a funeral can be overwhelming, whether you are arranging your own service years in advance or suddenly responsible for planning the funeral of a loved one.To help make that task easier, we've collected a number of helpful articles that will provide the information you need each step of the way. We hope these resources ease your anxiety and help you to plan a beautiful final goodbye.
Funeral Planning
We know how hard it is to think of everything that should be done when planning a funeral. That's why we have collected a number of Funeral Planning resources to help focus your efforts. Whether your service is a Funeral or Memorial Service , formal or informal, religious or secular, these articles on Funeral Planning, Memorial Service Ideas, Funeral Service Checklist can help you get started.

Funeral Costs
What should you expect to pay for a funeral service? What's included and what's considered an additional service? Read the article on funeral costs for more information on what to expect to pay when planning a funeral.
Cremation Customs, Costs and Options
If you or a loved one is considering cremation rather than standard burial, start here to learn what to expect in terms of costs and what cremation options are available. See articles on Cremation, Cost of Cremation ,Scattering Ashes
Planning a Green Funeral
Many people would like their final goodbye and burial to reflect their love for the environment. Here's information on green burial, funeral and pre-burial practices emerging in the United States.
Standard Christian Funeral Practices
If you are planning the final service for someone who wants their Christian faith honored, this article will help you do so. Use these suggestions as a basis for planning an appropriately spiritual funeral or memorial. See our article on Christian Funerals.
Planning a Wake or Viewing
You may choose to hold a wake to honor the person who's passed away. This article can help you plan a memorable funeral wake that's truly a tribute to your loved one.
Creating a Funeral Program
We have a wealth of information to help you create a program that's just right for a funeral or memorial service. In addition to free information, we have many different funeral program templates to help you create your perfect funeral or memorial program. From templates to suggested wording, we hope these links give just the help you need to create the program for the funeral service you're planning.
See:
Funeral Program Wording
What is a Funeral Program
What to include in a Funeral Program

Save Time and Money by Using our Templates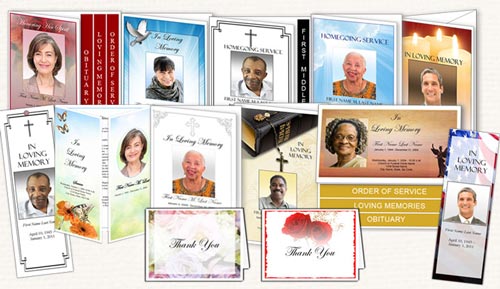 Professional Designs formatted using Microsoft Word or Publisher or MAC Pages
All wording can be changed, including the program title
Flexible Designs and Layout
Instant Download and Live customer support
Funeral Etiquette
Not sure what is considered appropriate when planning or attending a funeral? See our article on funeral etiquette for guidelines for what's helpful and respectful before, during and after a funeral.

Funeral Readings
Funeral Readings can help any funeral or memorial service special. There are many different types of funeral readings that you can use. See our articles on Funeral Poems, Funeral Readings, Funeral Quotes, Funeral Scriptures.
Selecting Appropriate Funeral Flowers
Want a memorable floral tribute to the person who has died, but aren't sure what is appropriate. Here are some thoughts about what kind of flowers you might order. See our article on selecting funeral flowers.

Writing an Obituary
Writing an obituary can be intimidating, but these guidelines will help you know where, when and how an obituary should be published. We have also included easy-to-use obituary templates to help you get started.
See:
How to Write an Obituary
Obituary Templates
Sample Obituaries
Death Announcements
Funeral Announcements

Writing a Eulogy
The eulogy or "good words" that are spoken about a person at a funeral service can be written in a way that honors the deceased while helping mourners heal. Try using the suggestions in this article to create a heartfelt eulogy for your friend or loved one. See articles on How to Write a Eulogy, Eulogy Samples-Mother, Eulogy Samples - Father

Burial Insurance What It Is and Isn't
You may hear advertisements for burial or funeral insurance, but aren't sure how they differ from standard life insurance. Here is a helpful article with more details on insurance available to cover your final expenses.