Obituary Template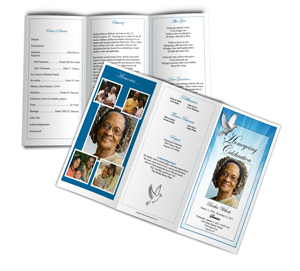 An obituary template can be used to create a printed obituary program of your deceased loved one. In an obituary program (also called the funeral program), the obituary is the focal point of the document. The obituary program also includes an order of service, poems, scriptures, service information and other information. Obituary programs will sometimes contain family photos and clipart.
The obituary can be the most important part of a funeral or memorial service program because it tells of the details of the person's death, a well as their life story. Writing an obituary can be a challenging process, but if you have the right information available the task can go smoothly.

Before beginning your program, have the following information available:
Birth Date/Death Date
Place of birth/Place of death
Circumstances of death (Optional)
Schools Attended
Military service information and decorations
Religious affiliation, such as church or synagogue
Jobs held - including retirement
Awards/Recognitions received
Hobbies and Interests
Names of Surviving Family Members
Awards/Recognitions received
Organizatal affiliations
Once you have this information, you can begin writing the obituary. Check the internet and with you funeral director for examples to help you get started. Also see our article on "How to Write an Obituary"
Once you have your obituary, you can work on other areas of your program. You can gather additional information that you may need for your program:
Gathering Photos/Cover Photos
Order of Service information (Ask your church officiant or Funeral Director)
Poems/Scriptures
Unique Clipart and Images
For information see "What goes in an Obituary Program"
Selecting an Obituary Template
Once you have the information you would like to include, You will need to select an obituary template. You can start with choosing a design. Template designs can come in a wide variety of styles, colors and themes. You may choose to use your loved one's favorite color or flower. You may also choose a religious theme. For more information, see our article on choosing a template design.
You will also need to choose a obituary template layout. Your layout will depend upon how much information you plan on including in your program. If you do not have a lot of informtion, you may choose to go with a standard 8 1/2"x11" single fold design or a smaller funeral card. If you have a lot of information, you may choose to use a larger sheet of paper, with multiple pages. You can also choose a unique layout, such as a graduated-style template. See our article on obituary program layouts to help you choose the layout that is right for you.
Once you have decided on a design and layout, make sure that you are able to edit your template. Templates can come in different software programs, such as Microsoft Word, Microsoft Publisher, Apple MAC Iworks Pages and many more. Make sure you understand what program you will need to edit your template before your purchase. You will also need to ensure that the editing program is properly installed and working on your computer.
Once you have purchases and download your template, you can now begin editing. Add a cover photo, the order of service, the obituary, poems, photo collages and clipart. Save your work frequently, and make sure you proofread your program before printing.