Selecting a Funeral Program or Template Design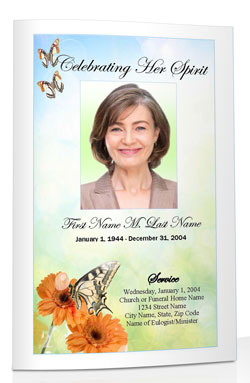 Whether you are creating your program yourself, or having your programs professional created, the most difficult part can often be selecting the cover design and layout. These tips will help you to select a memorial or funeral program template that fits your loved ones personality. The right design teamed with the perfect funeral poem, prayer or scripture can be the perfect memorial keepsake.
Consider your Loved One's Favorite Color
If your loved one had a favorite color, you can choose a program in that color. You can also choose a color that suits your loved one's personality. If your loved one was conservative, try simple, straight-forward, subtle shades of softer colors, such as pink and lavender. If they had a colorful personality, choose a wild and adventurous (splashes of red, purple, and orange).
Was religion or church important to your loved one?
If your loved one was spiritual, or if you are having a religious service, consider choosing a program cover that has religious artwork. Look for covers that may have crosses, bibles, angels or other religious artwork.
Did you loved one enjoy the outdoors, a particular landscape or a favorite flower
Did they enjoy the beach, mountains, forest or other landscape. Consider choosing a program that has landscape scenery or flowers on the cover.
Will you be including a cover photo or family photos and collages?
Will you have a cover photo on the program. If so, select a design that has room for a photo. If you are going to include a memorial photo collage of family pictures, make sure you pick a layout that has enough room to accommodate your pictures.
Once you have decided on a theme or design, you can begin to plan what you will include in your program. See our article on what goes in a funeral program and funeral program wording for more information.
To get more inspiration, see check out a funeral program sample, and our funeral program gallery.