What to Include in a Funeral Program
If you are creating a funeral program or memorial service booklet, there are many different kinds of information that you can include. Whether you are having a formal funeral service, or an informal memorial service, you can make your program as simple or elaborate as you would like. Many of these elements are also included in Celebration of Life Programs, Homegoing Service Programs as well as other Funeral Stationery including funeral cards and memorial bookmarks. This article will outline the many different types of information that are often included in programs.
Funeral Program Title
Even though the title is just a short phrase or caption, it is a very important part of the program. The title or caption helps set the overall tone of the the service and program. This article list several program titles or captions for your funeral program or memorial booklet.

Service Information
Service information is often given. This includes the Date and Time of the service as well as the location or venue and sometimes the address of the service. The Officiant, Pastor or Eulogist is sometimes listed as well.
Cover Photo
Most programs include a cover photo of the deceased, or a photo somewhere within the program. Photos can be current, or from a different era in your loved one's life. If you choose not to include a photo, there are many funeral program templates that do not require a photo. See our article of funeral program pictures for more information.
Funeral Order of Service (Funeral Outline)
The funeral order of service or service outline is a very important part of the program and can be the most time consuming. This tells the guests the events that will take place during the service. You should consult with church officials, your funeral home director before writing your order of service. Often times the church or home can give you a sample order of service to give you a good idea of how the service should flow. Your order of service can have many different elements to it. Read our article on writing on funeral or memorial program order of service for more information.
Written Obituary
A written obituary or life tribute is often included. The obituary gives information about the deceased person's life. The obituary can be consise and very general, or very long and detailed. See our article on writing an obituary for funeral programs for more information. You can also check out sample obituaries to help you get started.
Along with the obituary, the surviving family members are also sometimes a listed.
Funeral and Memorial Poems
Poems are a good way to expess your feelings about your loved one. Funeral poems are frequently read during services and included in programs. You can use the internet to help you find the perfect poem. See our funeral poems collection to help find the the right poem for you.
Funeral Prayers
Funeral prayers are often included to offer words of comfort to mourning guests. They may also be included it the prayer is being read aloud at the service. See our article on funeral and memorial prayers.
Funeral Bible Scriptures
Bible scriptures are usually read during ceremonies. Sometimes the scriptures are included in the programs so that the guests can follow along.
Make The Perfect Funeral Program ... It's Easy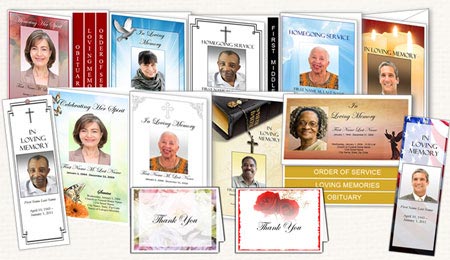 Professional Designs formatted using Microsoft Word or Publisher
All test can be changed, including the program title
Flexible Designs and Layout
Instant Download and Live customer support
Funeral Song Lyrics
Song lyrics can be included in programs so that the guests can follow along. If you need help choosing a song that is right for your service, check out our articles on funeral songs and funeral hymns.
Special Quotes and Saying
You can include special quotes and sayings in your funeral programs, especially if your deceased loved one had a favorite quote, author or book. Including these quotes will help add a personalized touch to your program.
Acknowledgements and Thank You Notes
Acknowledgements or thank you notes are often included on the back of the program to thank the guests who attended or who gave special gifts, thoughts or prayers.
Names of Pall Bearers, Flower Bearers
Traditional funeral programs will sometimes list the names of Pall Bearers and Flower Bearers. Both the actual and honorary.
Notes to the Deceased Loved One
Sometimes personal notes to the deceased are included in programs. This is a great way to communicate how well loved your loved one was, and it really helps to personalize your programs.
Photo Collages
To help personalize programs, photo collages of families and friends can be added to funeral programs. You can display a timeline of photos of the person being remembered, friends and family members, or the honoree participating in hobbies and interests. A beautiful collage can turn you program into a treasured keepsake. For more details, see information on funeral program photo collages.
Funeral and Memorial Clipart
Funeral and Memorial Clipart can help give your program a well-designed and professional look. You can add borders, frames, flourishes and clipart that honors your loved one to help give your program a personalized look and feel. You can also add clipart to other funeral and memorial stationery. See our article on funeral and memorial clipart.