View Our Funeral Program Template Designs
Welcome to Elegant Memorials. Our company has a wide assortment of Funeral Program Template designs, Bookmark and Prayer Card Templates to choose from. We have basic funeral program designs with colorful backgrounds,and an extensive variety of layouts, colors and styles to help you make the perfect memorial keepsake. If you need a template for a funeral program, our website has many different funeral program design and layouts.
---
View Memorial Cards, Clipart and Packages
Funeral Program Template Design Details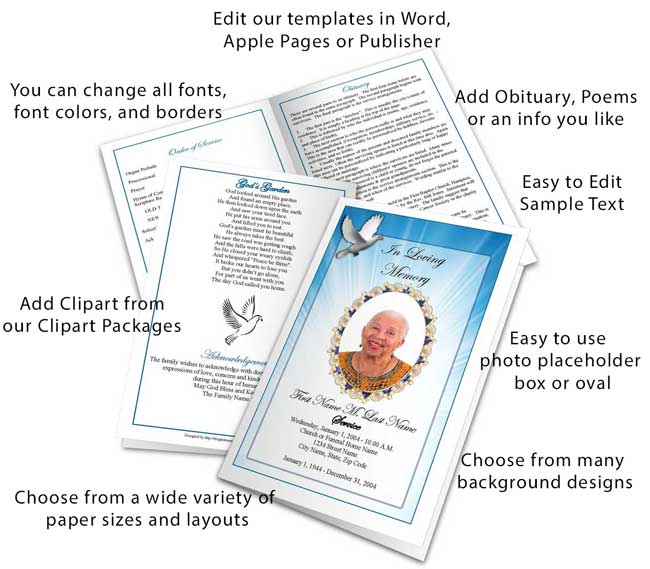 Funeral Program Template Examples
If you need a funeral program design or layout, our templates are easy to use and are very versitile. Our documents and templates can be easily edited and the graphics can be manipulated or changed to create almost any funeral program design that you may want. We have conservative and low-color obituary program templates, as well as contemporary, unique and colorful designs, you can use your imagination to create the perfect remembrance keepsake for your loved one. You can also add your own graphics, pictures or funeral program clipart to our programs quickly and easily. Our funeral program gallery showcases our template, and give you many different program design ideas. Click to explore our funeral programme template sample gallery.