Funeral Booklet Sample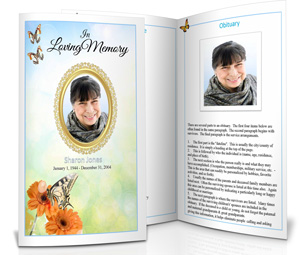 Bifold Beautiful Butterfly Funeral Booklet
This booklet uses the bifold Beautiful Butterfly Funeral Program Template. This colorful and carefree design features a pale green and blue background with delicate butterflies. This program contains an order of service, obituary, funeral poem and an added clipart.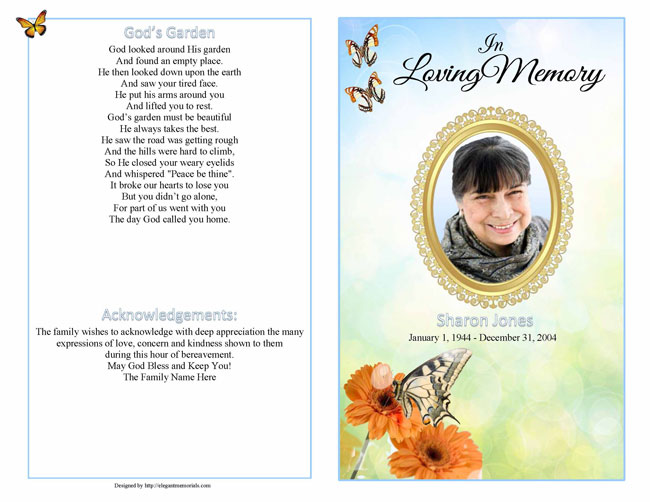 Funeral Booklet Outer Cover
This is the Beautiful Butterfly Bifold (Singe Fold) funeral program booklet. This design has a pale blue and green bokeh background with delicate butterflies and 2 vibrant orange flowers on the cover. This nature and floral design makes a perfect funeral program design for celebration of life services, funerals and memorials. This cover has as minimal details, only displaying a cover photo, full name and birth and death date. The back has a poem and acknowledgement (thank you note) from the family.
This funeral booklet sample features the fancy title clipart design to help give a more professional look and feel. We have also displayed the photo in a beautiful gold lave oval frame, which is available in our Funeral Program Clipart Vol. 1 Package. Fancy Title and Funeral Program Clipart packages can be purchased separately. This program also used "WordArt" feature that is native to Microsoft Word and Publisher to create the headings (such as "Obituary", "Poems", "Order of Service") using a light blue outline with a slight drop shadow. This program layout is
bifold (which uses 8 1/2"x11" paper) and is the simpliest funeral program layout and it is the most common. It prints out on one page, double sided, and is easy to print and assemble.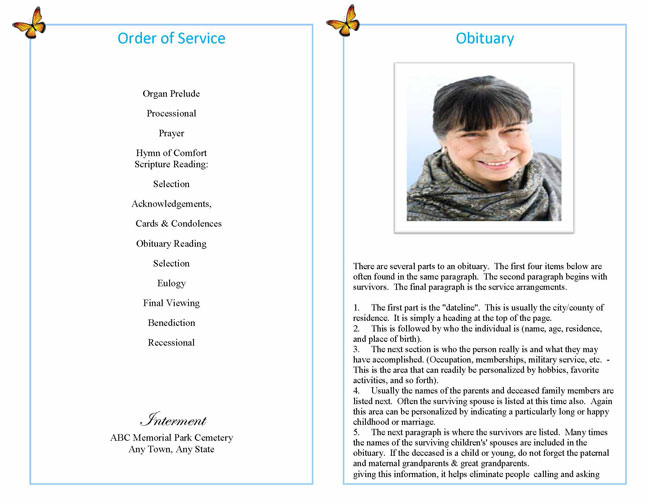 Funeral Booklet Inner Page
The left hand side of this program has a less formal funeral order of service which includes music, prayers and readings. The right hand side of the program has an obituary and also featurs another photo, which has been styled with drop shadow and border in Microsoft Word. The borders have been embellished with tiny butterflies (available in the clipart package) in the top left corner. For more information suggestions on what to put in your program, see our article on what to include in a funeral program. You could also add an additional page and include more family photos or a funeral program collage, clipart and personal notes about your honored loved one.
Elegant Memorials has over 100 unique and colorful funeral program template designs and layouts to choose from. Select from a variety of funeral programs themes and colors to help capture the uniqueness of your loved one. Check out our funeral program sample gallery to get geat ideas to help you create the perfect program for your funeral, memorial, homegoing or celebration of life service or ceremony.
Save Time and Money...Make your own Program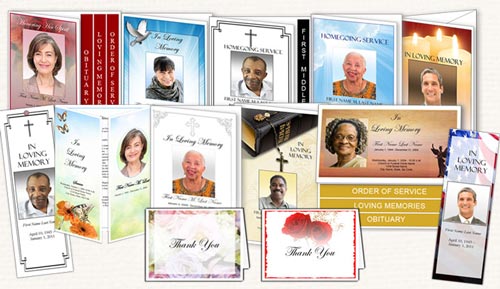 Professional Designs formatted using Microsoft Word or Publisher or MAC Pages
All wording can be changed, including the program title
Flexible Designs and Layout
Instant Download and Live customer support
We have a variety of resources on this site to help you create the perfect program. Some of our information includes: