Funeral Invitations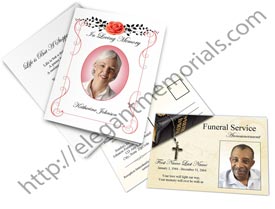 Long gone are the days when a newspaper obituary was the only formal announcement of a loved one's death and burial. Today, family, friends and acquaintances receive various types of funeral invitations announcing not only an individual's death, but his or her impending burial or interment.

About Funeral Invitations
Funeral invitations are customarily designed as keepsakes of a loved one's passing. They give details of an upcoming funeral, memorial service or Celebration of Life ceremony. They can also give specifics about visitations, wakes, burials, religious ceremonies or rituals. Although concise, funeral invitations are readable, simple and free from distracting details. They typically include at least some of the following:
Full name of the deceased
Dates of birth and/or death
Time, date and place of wake, funeral, memorial service or Celebration of Life ceremony
Name and address of interment
Personal note from the family
Additional information, such as cause of death, surviving family members and other details about the deceased is traditionally not part of a funeral invitation. Save those details for the newspaper or online obituary or funeral program.
Styles of Funeral Invitations
While you may have a limit to the type of details included in a memorial or celebration of life invitation, your choices of styles are greater. Two of the more popular styles of invitations are bifold cards and flat. Both have distinguishing features and characteristics, yet are simple and formal enough for use as a formal invitation.
Bifold Memorial Cards: This versatile style of card is for funeral invitations, thank you notes and announcements. You can download a template from professional designers such as Elegant Memorials and alter the text, colors and images as you see fit. By going this route, you can personalize the invitation to include exactly what you want.
Flat Cards: Flat cards are very simple and elegant. It has a front cover and back. These cards can be used as funeral invitations or funeral announcements.
Both styles of funeral invitations are acceptable. In some instances, the formal announcement consists of a double-sided, full-color postcard, which is also appropriate.
Using a Funeral Invitation Template
You can use funeral invitation templates to create memorial cards, bookmarks and prayer cards. Using a template can simplify the process of creating your own designs and layouts. Templates come in a variety of applications including Microsoft Word and Publisher.
Funeral Invitation Wording
One of the major components of designing a funeral card or announcement is its wording. It's important to make sure the proper sentiment is expressed without being overly emotional or apathetic. You also want to make sure your information is accurate.
Adding Information to Funeral Announcement or Invitation
When downloading a card or announcement template, you will have plenty of room to put in the typical information such as name, dates of birth and death, time and place of funeral service and location of funeral home and cemetery. The wording for this text is straightforward and not too difficult to acquire and add to the invitation or announcement. Make sure to proofread for errors. The rest of the text that you can add to a funeral or memorial announcement or invitation is subjective. You can include a favorite poem, prayer or Bible verse, as well as a personal note from the family. Images are optional, but they do add a fine touch to the card.
Funeral Invitation Wording Samples
The following is some examples of funeral invitation messages that you can use to announce your loved one's death and service:
Celebration of Life
"Come celebrate the life of
John Doe
Sunday, September 21, 2014
2-4 p.m.
Botanical Gardens
123 Main St., Somewhere, Ohio 12245
Reception and Brunch
Memorial Service
In memoriam of
John Doe
1930-2014
The honor of your presence is requested
at a memorial service
Sunday, the 21st of September
at two o'clock in the afternoon
Memorial Gardens
123 Main St., Somewhere, Ohio
~~ May his soul rest in peace ~~
Ash Scattering
The family of Jane Doe
request the honor of your presence
at a ceremony of final disposition.
We will gather at
California Beach
1234 Beachside Ave., Pier 321
SS Cool Ship
Saturday, September 20, 2014, 2 p.m.
The ship will set sail at 2:30 p.m.
Please bring your fondest memories of Jane.
RSVP (555) 555-5555
Funeral Notice
Mrs. Jane W. Doe
Born: December 1, 1950
Died: September 18, 2014
The friends and acquaintances of the
Doe family are respectfully invited to
attend the funeral services of
Mrs. Jane W. Doe
to be held from St. Mark's Catholic Church
at 10 a.m. Monday September 22, 2014
The Rev. John Priest officiating
Interment, All Saints Cemetery
Reception to follow at VFW Post 123
Sending Funeral Invitations
If you are sending invitations for a funeral, wake or burial, send them out immediately after the individual's death. This allows guests, especially those from out-of-town, to make appropriate plans to attend. However, if the invitation is for a memorial service or Celebration of Life ceremony, send out the invitations as soon as you have the date scheduled and details worked out. The latter of these events typically occurs a week or more following the funeral and interment. You can also consider sending funeral invitations online.
If you are creating funeral invitations from a template, allow ample time to design and mail them before the service and burial. You will have to work fast, so enlist the help of a close friend or relative to help you.