Funeral Handouts
Whether you're planning a funeral, memorial, private graveside committal service or a large Celebration of Life ceremony, you may want to include at least one type of funeral handout to distribute to family, friends or guests. These booklets, pamphlets, cards and other mementos are beloved keepsakes of a love one's life. In some cases, they also give an overview of the funeral or memorial service and can showcase family photos and collages.

Types of Funeral Handouts
There are many styles and designs of funeral handouts you can distribute with the most common being paper handouts such as funeral programs or memorial bookmarks and prayer cards. However, there are other tokens that can be more personal to give to guests as well. Check out this list of the different types of funeral handouts typically shared in memory of a loved one:
Also commonly called funeral programs, booklets, brochures or pamphlets, these are printed documents that provide key points of the funeral or memorial service. They also summarize your loved one's life details, including achievements and even pictures. Common elements of a funeral program are the funeral program order of service, obituary, life sketch or tribute, family members, as well as other personalized elements such as favorite poems, scriptures, quotes and even personalize letters and notes. Memorial photo collages help add a very personal touch to programs and turn these documents into treasured momentos. See our section on making funeral programs for more information.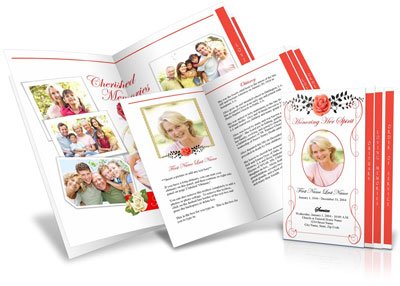 Example of Funeral Handout (Printed)
This is an example of the Red Vintage Rose 4 Page Graduated Fold Funeral Program created from our funeral program template with the same name. This design features a delicate swirl border with a beautiful red rose on the top with green vines. This design is also available in pink, yellow, and purple. The layout is a very versitile graduated or step fold. It prints on 2 double sided sheets of paper, and has a staggered fold that has 3 colored rectangles down the side for an extra design element. It features an oval picture border. for a cover photo. The cover also contains pertinent funeral service information such as the date, time and location of the service, as well as the birth and death date.
This program contains an obituary, a poem, and a beautiful funeral program collage. For more information on what elements to add to your funeral or memorial handout, read our article and section on how to make a funeral program. You can also add additional clipart and images to your programs for a more custom funeral program look and feel. See our funeral program clipart packages.
Memorial Prayer Cards
Also known as holy cards, these prayer cards are small, hand-held keepsakes that typically include a small devotional or prayer, as well as religious image or picture of the deceased person. You can also make a more secular and non-religious card, and use more contemporary designs and add a favorite non-religious poem or quote to the card. You can alos include a brief life sketch or obitiary on the back of the card to celebrate the life and accomplishments of the deceased. See our article on memorial cards for more information about these keepsakes.
Memorial Bookmarks: Funeral or memorial bookmarks are larger than prayer cards and typically contain an image of your loved one, as well as a favorite poem, verse or scripture. Many times, families match the bookmarks to the funeral programs used as the service.
Seed Packets: Funeral or memorial custom seed packets contain tree or flower seeds. The envelope is personalized with a poem or verse. Planting instructions are also included. Tree seedlings are also becoming a popular option.

Favorite Recipes: If your loved one enjoyed baking or a favorite treat, serve it at the service or placed samples in a keepsake jar and provide the recipe.
Pocket Tokens: From memory stones to rings, pocket tokens are a great favor to distribute at funerals or memorial services. They can typically be inscribed with a graphic and a saying such as "Gone but not forgotten," or "In loving memory."
Tealight Candles: Flameless or traditional candles make special funeral favors. Each can be handed out in a small soft bag with a note or tribute to the one who died.

Shot Glasses: A more common tradition at Irish funerals, these glasses can then be used to toast your loved one's life.
Wristbands: These can be modeled after the "Live Strong" wristbands and can be inscribed with your loved one's name or favorite saying.
Custom Magnets: Miniature magnets with either a favorite image or quote or picture frame with your loved one's image are also appropriate to distribute at the funeral or memorial service.