Funeral Tributes
Paying tribute to a loved one who died is a common tradition at funerals and memorial services. Tributes speak to life the deceased person led, as well as the relationship you had with him or her. A funeral accolade is as simple as a meaningful card or poem or as elaborate as a resolution. Because a funeral tribute will create a lasting memory for the surviving family members and friends, make sure you pay careful attention to all the details involved. You can even search the internet for funeral tribute samples.
Funeral and memorial tributes are not only for close friends and family members to declare. Co-workers, childhood friends and old classmates can also express their thoughts and feelings for a person who died. However, those closest to the deceased are more likely to present their tribute in a more personal way such a eulogy or video slideshow presentation. Select your tribute for funeral based on what you feel most comfortable doing:

Types of Funeral Tributes
Printed Funeral Tributes and Programs: Funeral programs give important details about the entire funeral or memorial service as well as include an obituary, poems and photos.
Chosen theme: Transform the environment, including the music, into a theme enjoyed by the deceased; a cowboy, for instance, would call for a western-style funeral
Eulogy: Written tribute praising a person who died; usually presented by a close family member, friend or clergy
Funeral Resolution: Formal written document that honors the deceased person's relationship with God
Poem or Scripture: Simple prose or verses that express your feelings; used when the bereaved is unable to find the right words to say or write
Memorial Slideshow: Collage of photos and videos outlining a person's life; typically shown during funeral or memorial services
Memorial Prayer cards: This keepsake traditionally has a Bible verse, individual's birth and death dates, picture and a note from the family
Candle: A gift for an immediate family member, a personalized candle comes with a specific theme and photographs of your loved one
Story or anecdote: Tales and funny stories about the deceased person's childhood, married life and career
Journal: Instead of the customary guestbook used at funerals and memorial services, a tribute journal allows visitors to write a short memory or thoughts about the person who died
Memorial Tributes -- It's Not About Goodbye
Today's funerals are more about remembering the happy memories with a person who died than about being sad and saying goodbye. A Memorial Tribute can comfort surviving friends and family members and support them during their grieving process. Choose a tribute that you are comfortable giving and one that will speak to the deceased person's memory.
Create the Perfect Funeral Tribute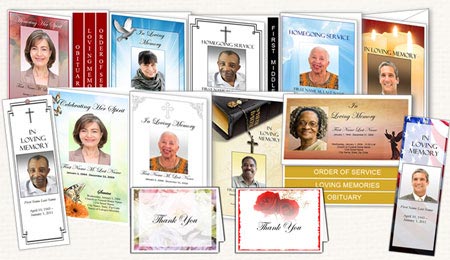 Save Time and Money with Funeral Program Templates
Professional Designs formatted using Microsoft Word or Publisher or Apple Pages
All text can be changed, including the program title or caption
Flexible Designs and Layouts
Instant Download and Live customer support