Sample Eulogy - Friend
Amy and I lived down the street as children. I remember, she lived exactly 10 doors down from me. As kids, we always wanted to come up with a way where we could use walking talkies to talk at night or whenever we wanted. We use to rush through our homework so we could run out and play. We tried a few times to study together, or be "homework buddies". It always ended in disaster. It didn't matter how old we were, or how easy the homework, we always wound up chatting, getting no work done and inevitably getting in trouble with our parents.

Amy was a great friend. She was the kind-of friend that stood by you no matter what. I remember one time in First grade, two other girls in our class were picking on me, and I suddenly became the "unpopular" one. Several of the other girls in our class followed suit, and quit talking to me. Not Amy. She stood right by me and would yell at the girls for being so mean. Of course, soon enough, the tide changed, and for whatever reason, I was no longer the one left out, but I never forgot how she stood by me.



Amy was the person I wanted to tell any sort of new to first. In third grade, she as the first one I told when I got my first crush, High School, she was the first one I picked up after I got my license, she was my Maid of Honor at my wedding, and the first friend I told when I was pregnant. I remember when she met her husband Michael. We were freshmen in college, and she came running into our dorm room talking about this cute boy she met in English class. They were attached at the hip from that day forward. Through the years, Michael has become a great friend of mine, and I love their children as if the were my own.

What will I remember most about Amy? Her laugh, her love for her husband and children, her kindness and sincerity, and her general belief that everyone is good and means well. What will I miss most about Amy? My friend the person that I pick up the phone to call first - the person that I laugh and cry with, and the person with whom I both morn and celebrate.

Amy's death was sudden, but her life was not faint. Her memory will always be with us, and her legacy will continue through her children. Amy would smile if she were here with us today. She would have some funny story to tell to make everyone comfortable, and we would for a moment forget our sadness. I will miss my friend dearly, but I am so grateful for having known her.
Add a Eulogy to Funeral Programs...It's Easy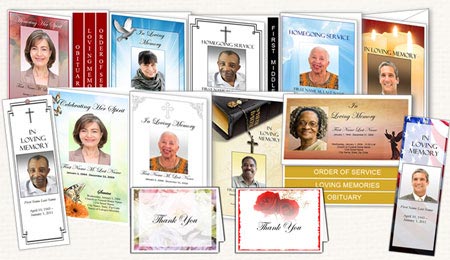 Professional Designs formatted using Microsoft Word or Publisher
All test can be changed, including the program title
Flexible Designs and Layout
Instant Download and Live customer support
Also See:
How to Write A Eulogy
Eulogy Writing Checklist
Sample Eulogy for Mother
Sample Eulogy for Father
Sample Eulogy for Grandmother