Sample Obituary
These sample obituary templates serve as a guide to help you get started writing an obituary for your deceased friend or loved one. Obituaries may be written for death announcements in newspapers, or for a funeral program, prayer cards and memorial keepsakes. The obituary documents the deceased person's life achievements and notifies the public of death. It also gives important funeral or memorial service information. The goal of the obituary is to demonstrate respect and honor for those who have passed, while informing those who remain of his or her death. Listed below are several examples for obituary wording samples. Below also shows the format for an obituary. For more specific information about writing obituaries, the obituary format and other examples and obituary ideas, check out our articles " How to Write an Obituary, Newspaper Obituaries and Death Announcements and obituary templates or Obituary Examples. You can also check out some of our sample obituary templates.


Sample Obituary -- Former Resident
Howard Hall, 85
Former Texas resident Howard M. Hall, 85, died Dec. 23, 2005, at his home in Houston, Texas.
At his request, no service will be held.
Mr. Hall was born May. 30, 1920, in Sacramento, Calif., to Salvatore and Elle Hall.
Howard could accomplish anything he set his mind to do. At a very early age, he built a wagon to push his little brother around that was too little to walk.
Mr. Hall also served in the United State Air Force, during World War II as a radio operator. He spent 14 months in the South Pacific. In 1942, Mr. Hall came to Texas with his lovely wife, Sally.
He worked several years for Amtrak and for Exxon during the oil spill as their Communications Specialist. Mr. Hall spent more than 50 years in Texas. He and his wife, Sally, built their vacation home in Galveston, Texas and enjoyed lots of wonderful winters there together. He is survived by his wife of 28 years, Sally; daughter, Jean Hall.
Condolences may be sent to P.O. Box 1425, Houston, TX 98382.
Sample Obituary Format 2 -- Janet Snow, 44
Janet Snow, 44, died March 1, 2004, with her family by her side in Enumclaw, Wash.
A memorial service was Wednesday at Greenwood Memorial Park in Renton, Wash.
She was born July 10, 1944, in Anchorage to Charles and Phoebe Smith. Her father was a Doctor in the Yukon. Her mother came up from Juneau as a nurse. They moved to Washington in 1946.

Janet spent summers at her grandparents in remote areas of the forest and wilderness. She graduated from Washington High School in 1978. She attended college at the University of Washington, where she met and married Eugene Snow. After graduation, they returned to Enumclaw. Mrs. Snow was a homemaker while her husband was a Firefighter.

She was an active member of the Brighton Presbyterian Church, belonged to the Arboretum Foundation garden club and worked with many different charities.

Her hobbies and interests included family, gardening, sewing and reading and creative writing. She devoted much of her time and energy as a caregiver to family members, including her mother until she passed away at age 70.

Mrs. Snow is survived by her sister, Virginia Coiro; brother, Carl Snow; 2 sons and their spouses, George and Eugene Snow, Jeff and Connie Snow; and 13 grandchildren; and 15 great-grandchildren.

She was preceded in death by her daughters, Sandra Jane Snow and Wanda Jean Snow.

Donations may be sent to Group Health Hospice Care.
Create an Obituary Program...It's Easy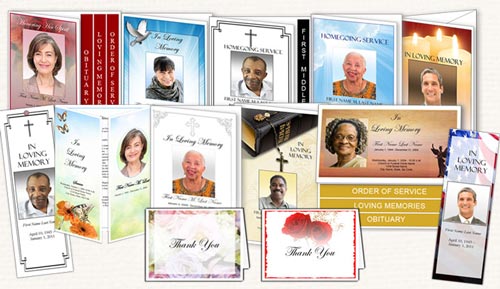 Professional designs and layouts formatted using Microsoft Word or MS Publisher or MAC Pages
All wording can be changed, including the program title or caption
Flexible and Colorful Designs and many different Layouts, Styles and Sizes
Instant Download and Live customer support
Sample Obituary 3 -- John Andres, 62
John Franklin Adres, 62, of New York City, died April 5, 1994, at his Manhattan home.

Mr. Andres was born July 1, 1952, in Kaneohe, Hawaii, to Richard and Emily (Holt) Andres.

He attended Boone High School in Kosciusko, Miss. He continued his education at Holmes Community College in Holmes, Miss., graduating in 1972 with an associate's degree in construction management.

He enjoyed football and playing Scrabble with his family. He enjoyed his family and
attending Broadway shows in NYC.

He is survived by his mother, Emily Andres of Long Island; brothers and their spouses, Richard Jr. and Leah Andres, and Thomas and Maggie Andres; several nephews; and special friend, Eva Gibson of Manhattan.

He was preceded in death by his father, Richard Andres.

Arrangements are with Cook Inlet Funeral Home.

Sample Obituary 4 -- Amy Elizabeth Jones
Amy Elizabeth Jones was granted her angel wings on March 6th 2005. Her final days were spent surrounded by family and friends that Amy had touched in some small way throughout her short, yet very memorable life.

Amy's life would seem too short to many, but those who were touched by her understood that the quality of existence far exceeds the quantity of time in which one lives. Her gently smile, tiny finger and baby soft skin brought so much joy to or family.

Although she was so tiny and frail, she gave us all such courage and hope and reminded us of the preciousness of life. She loved to rock and swing. She could spend hours rocking in his favorite chair while cuddling close to those he loved so much. She enjoyed music and reading stories.

Amy is survived by his loving parents, Craig and Anne Jones of Rudridge Vermont; sister Katie Jones; paternal grandparents Bob and Margaret Jones; uncle Mark Jones of Raleigh NC.

In lieu of flowers, donations may be made to:

Rock A Bye Baby
331 Veranda Street
Rudridge, VT 04235
Make an Obituary Program...It's Easy