Obituary Template
The obituary records the deceased person's life, and informs the public of death and gives information about scheduled funeral and memorial arrangements. An obituary template can mean a few of different things. First, you can use a template to help you create an obituary that will be published in public printed publications, online sites, or a memlorial keepsake such as a funeral or obituary program or other printed materials such as bookmarks and prayer cards. Here is a basic fill in the blank obituary template to help you get started with creating an obituary.

Fill in the Blank Obituary Template
Use this free obituary template to construct an obituary for publication in a newspaper (death announcement).
"NAME", "AGE", of "PLACE OF RESIDENCE", died (can also say "passed away", went to heaven, etc.), "DATE" (can include optional cause of death).

"HE/SHE" was born "PLACE", "DATE OF BIRTH". "NAME" graduated from "SCHOOL" and received "DEGREE" from "SCHOOL". "HE/SHE" was married to "SPOUSE'S NAME" ( wedding date is optional).

INCLUDE OPTIONAL BIOGRAPHICAL INFORMATION HERE: Employment history, accomplishments, organizations, activities, etc.

"HE/SHE" was survived by "CHILDREN", "GRANDCHILDREN", ETC. (Try to separate each name with a comma or semicolon)

Funeral arrangements will be held "TIME", "DATE" and "PLACE".
For longer, more detailed obituary, use this free simple obituary template:
There are several parts to an obituary. The first four items below are often found in the same paragraph. The second paragraph begins with survivors. The final paragraph is the service arrangements. Below is a quick template for obituary.
The first part is the "dateline". This is usually the city/county of residence. It is simply a heading at the top of the page.
This is followed by who the individual is (name, age, residence, and place of birth).
The next section describes who the person's personality is and what they may have accomplished. (Occupation, memberships, military service, etc. - This is the area that can readily be personalized by hobbies, favorite activities, and so forth).
Usually the names of the parents and deceased family members are listed next. Often the surviving spouse is listed at this time also. Again this area can be personalized by indicating a particularly long or happy childhood or marriage.
The next paragraph is where the survivors are listed. Many times the names of the surviving children's' spouses are included in the obituary. If the deceased is a child or young, do not forget the paternal and maternal grandparents & great grandparents.
The final section is the service arrangements section. This is the who, what, where, and when of the services. Wording similar to the following is often used:
"A memorial service will be held in the First Baptist Church, Hampton, VA on Monday, January 3, 2000, by the Rev. Bill Jones. Interment will follow in the Hampton National Cemetery. The family suggest that memorials may be made to the American Cancer Society or the charity of one's choice."

If there will not be any services or should the arrangements be incomplete, these items should still be addressed in the obituary. This is particularly true if no services are planned. By giving this information, it helps eliminate people calling and asking when the funeral will be. Sometimes this simple phone call will trigger a flood of emotions and lengthy explanations of why no services are planned can be avoided.

Be sure to incorporate your obituary into an Obituary Program (Funeral Program), to hand out to friends and family. This will serve as a keepsake to remember your loved ones by.
Printable Obituary Template for Programs and Keepsakes
The obituary documents the deceased person's life, and informs the public of death and gives information about planned funeral and memorial arrangement. A printable obituary template can also be a pre-designed document that help you to complete a funeral or obituary program for your deceased loved one. An obituary program usually contains a cover photo, an funeral order of service, an obituary which is an account of the deceased person's life. The obituary program can also contain other personalized information such as family photo collages, personalized notes, special poems and scriptures. These unique elements help make your program a keepsake that friends and family members will want to keep to remember the deceased person's life. Read more about printable obituary templates on our website.
Create an Obituary Program...It's Easy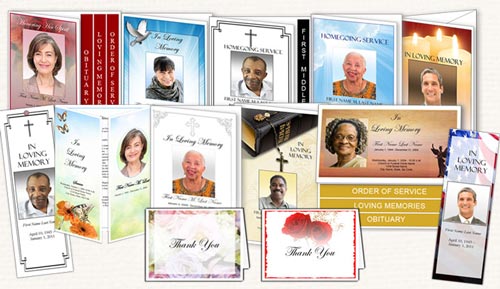 Professional Designs formatted using Microsoft Word or Publisher or MAC Pages
All wording can be changed, including the program title
Flexible Designs and Layout
Instant Download and Live customer support
Parts of an Obituary Template
There are many different elements to an obituary template or memorial program. Here are some common pieces of information that can included in your template:
Photo of the deceased on the cover of the program
A descriptive title or caption such as "Celebration of Life" or "In Honor of"
A service outline or agenda that describes the order of events for the funeral service or memorial celebration
Name of people or family members who will be conducting activities at the service
An obituary or life sketch of the deceased. This is usually the most important part of the obituary program
Poems, Quotes Scriptures or Readings
Photo Collages of friends and family members
Software for an Obituary Template
A Microsoft Word template for obituary can be a quick and easy way to get started writing your obituary or creating a memorial program. MS Word software is readily available and has a great deal of functionality to help you quickly and easily create your memorial. Templates in Word can easily be found on the internet and will vary in cost, ranging from free, to about $70. You can also use other software programs such as Microsoft Publisher, Apple Pages and even OpenOffice or Adobe Elements and Photoshop.