Remembrance Cards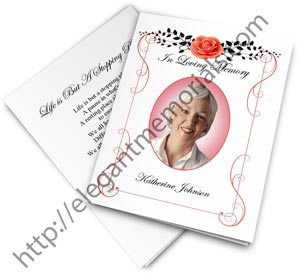 Remembrance cards are pocket-sized keepsakes distributed to family and friends attending a loved one's funeral or memorial service. They typically accompany a funeral program, but they can be handed out on their own. Remembrance cards can be religious or secular and can feature many different colors, styles and designs. These cards can also include many different types of information. You can purchase a funeral card template to help you save time when creating your memorial.

Funeral homes, professional designers and printers can create, design and print remembrance cards. However, it is becoming more common for families to create these keepsakes at home. This gives them more control over the design and contents, personalizing them as necessary. It also may help defray cost from already prices funeral services. Families can purchase and exepensive remembrance card template. Remembrance cards and templates can come in different styles including traditional card size, as well as bookmarks, prayer cards or folded funeral cards.
Designing a Remembrance Card
If you've been given the task of creating remembrance cards for an upcoming funeral or memorial service, you can download a memorial card template from the Internet. The preprinted templates include room for the deceased person's full name and dates of birth and death. An inspirational Bible verse, prayer, short obituary, tribute, poem or song lyrics can easily be added to the back of the card. Other information you may want to include if there's room:
Name of funeral home or mortuary
Cemetery or mausoleum including vault and plot number
Photograph of person who died or other image such as religious, memorial or nature scene
Remembrance card templates leave a space for your loved one's image. A high-resolution, colorful image will work best in this situation. You can also choose to use a different picture, such as a religious or nature scene. They can be purchased online or through a funeral home, but it's becoming more popular for families to create their own at home. By downloading a remembrance card template, you can choose how it looks and what content is included.
If you choose to print remembrance cards at home, consider using card stock instead of regular copy paper. If you have the time and it's in your budget, you may want to laminate the cards for durability.