Funeral Program Photo Collages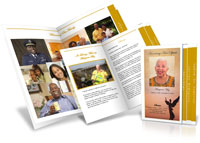 Funeral Programs are sometimes more than just an outline of the funeral or memorial service. Sometimes these programs function as treasured keepsakes to help honor and cherish the memories of loved ones who have passed on. Most funeral programs today contain not only photos of the honored loved one, but also have many photos of family and friends. These photos are often arranged in photo collages.
Creating a Photo Collage
You can easily add collages to your funeral stationery. If you are creating a funeral program yourself, follow these quick tips to help you create the perfect collage to share with family and friends.

Gather photos that you will want to include in your collage.
Get your photos together. You may want to reach out to family and friends for photos. Remember, to look for hard copies of photos, such as framed photos around the house or in photo albums, as well as electronic version that may be on camera, disks, or even social media sites, such as Facebook, or Instagram.
Think about how the photos will be arranged.
You will probable have many photos to choose from and you will need to think about how you will arrange them. Here are a few suggestion on how to start
Arrange the photos by family members. If you are showcasing the deceased love one's family, perhaps you can put his or her photo in the middle, with family members around.
Display photos based on you loved one's life timeline. You can start with photos of your loved one's childhood, and build up to the current age.
Display photos on life acheivements. You can show childhood accomplishments, graduations, career milestone photos.
Display photos based on hobbies and interests. Did your loved one have a life passion? You may want to focus on displaying pictures that showcased your loved one engaging in their favorite activities.
You can do a combination of all.
Sample Funeral Program Collage
Here is a sample of a funeral program photo collage. This collage uses frames from Microsoft Word or Publisher to organize the photos. Photos are inserted into the blank space from the Vintage Rose Funeral Program Graduated Fold Template (Red) and then arranged on the page. Frames and borders from Microsoft Word or Publisher are used to decorate the photos and add design elements. The floral clipart is from our Funeral Program Clipart Package. Photo frames could also be inserted from our Funeral Program Clipart Frames Package. See our article on Funeral Program Collage Samples for more collages and design tips.
Make Your Collage
Once you have your pictures, you can begin making your collage. Making your collage in Microsoft Word, Publisher or MAC Word Processors are fairly easy. Here are some general instructions for getting started with your collage.
Make sure you have all of your photos electronically. If you have hard copies, you will need to scan the photos to get them onto your computer. See our article on funeral program images and pictures for more information.
Once you have your photos, you can insert your photos in your funeral program document. On your main menu, you can select the "Insert" option. Choose the photo you want, and hit the OK button. You may need to configure the image so that it "floats" on top of the page. Position the photo to where you want it. You may need to resize or crop the photos so that they fit on the page. See our article on Funeral Program Photo Editing for more information. Repeat until you have all your photos in your program.
Add Design Elements to your Photos and Collages
Once you have inserted your photos and resized and repositioned them, you may want to add a few design elements to it. Here are a few things you can do with your photos.
You can add borders to your photos. You can also adjust the color and thickness of the borders. You can also change the style of the border
You can add additional memorial clipart to your collages.
You can textbox captions to your collages. You can label your photos, or add loving captions, quotes or poems.
You can add advanced formating such as drop shadows and decorative borders.
A photo collage can turn a basic funeral program into a cherished keepsake that your family and friends will keep for years to come.