Funeral Programs by Elegant Memorials
Elegant Memorials sells professionally-designed, easy to use funeral program templates to help you create the perfect funeral or memorial program to share with friends and family. A personalized program is a great way to honor your loved on and cherish your memories. It makes the perfect keepsake!

It's Quick and Easy...
Here is how it works
Select a template from our designs.
Choose from Bifold, Trifold, 2 and 4 Page Graduate Fold, Large Booklet and Small Card Layouts

Purchase your template on our secure site, or use Paypal
Download your Template to your computer within minutes!

Edit your program using Microsoft Word or Publisher
Add Photos, service information
Print your program at home or send out for printing
Make the Perfect Memory with Our Funeral Program Templates
Choose your Template and Download Immediately
Elegant Memorials has many designs in various colors, themes and layouts. Select the template and Download Immediately. Open and edit your template using Microsoft Word or Publisher. Our templates are fully editable, including titles.
Customize you Template and Make it Your Own
After you have downloaded your template, you can begin customizing it. Our templates are fully editable (even the titles). Begin adding your photos, order of service, funeral or memorial poems, bible scriptures and any other information. You an also change font styles and colors, border and line styles and colors and even add your own clipart. Get as creative as you want!

Print at home or Take to a Print or Copy Shop
Your completed programs print beautifully on your home printer, or you can have them printed at a print or copy shop. Distribute your finished programs at wakes, funerals, memorial services, homegoing services and celebration of life ceremonies.
With so many different designs to choose from, the decision can be difficult. Here are some quick tips to help you make your decision.
If religion is important to your family, choose a religious-based obituary program background.
Consider selecting a template design based on your loved one's favorite color.
If your loved one enjoyed the outdoors or nature scenery, consider selecting a landscape or outdoors design.
If your loved one had a favorite flower, choose a floral themed template design
What information should I include in my program?
Funeral and Obituary Programs usually contains a combination of the following information:
Cover photo and/or background graphics
A copy of the formal Obituary, Eulogy or Tribute
Order of Service or Service Outline
Funeral Poems and Biblical Scriptures, or Funeral or Memorial Quotes
Photo collages and decorative clipart

Funeral Program Layouts
Funeral programs are available in a variety of layouts. Elegant Memorials sells bifold (single) fold, trifold and 2 and 4 page graduated fold, large booklet and small card layouts. When choosing a layout, consider how much, and what kind of information you will include.
Bifold Funeral Program Layout




Bifold layout uses 8 1/2" x 11" (standard) paper which folds in half, to give you 4 panels of information. Finished size of 5.5"x 8.5"
The bifold is the easiest and most straight-forward layout. It is also the most commonly used layout.
Additional pages can be added to you program to give more room for poems, funeral song lyrics, funeral program pictures, clipart and photos, and any other information you would like to include

Trifold Funeral Programs Layout




Trifold layout uses 8 1/2" x 14" (legal-sized) paper which folds over twice, to give 6 panels of information. Finished folded size is approx. 4.5"x 8.5"
Trifold layout is formatted to display additional photos or other information in your funeral program
Additional pages cannot be added to this layout

Graduated Fold Funeral Program Layout

Graduated layout uses as a single sheet of 8 1/2" x 11" paper, printed on both sides
Graduated fold has an offset fold which reveals a colored rectangular panel that displays the name (or any other information) on the right side of the funeral program
The graduated layout is very similar to the bifold layout, however additional pages cannot be added.

4-Page Graduated Fold Funeral Program Layout

This layout uses 2 sheets of 8 1/2" x 11" paper, printed on both sides , which fold to give 8 booklet pages of information, and folds to reveal 3 elegant colored panels.
Plenty of room for additional photos and information, however, additional pages cannot be added
The elegant fold design element gives a contemporary and polished look to your funeral programs.




Large Tabloid Funeral Booklet Layout

Large Tabloid layout uses 2 sheets (printed front and back) 11" x 17" sized paper which folds in half, to giving an 8 page large booklet. Finished folded size is 8.5"x11"
This layout is our largest, with lots of room for all kinds of information
This layout can have additional pages
This layout requires a large format printer (one that can accomodate 11"x17" paper)

Funeral Card Layout

Uses 8.5"x11" paper, formatted to print 2 cards per sheet. Finished card size 5.5"x4.5"
Save time by using Avery Note Cards #8315 for easy folding and assembly
Perfect for funeral announcements, tribute cards or service invitations
We have a variety of resources on this site to help you create the perfect program. Some or our information includes:
Elegant Memorials has over 25 unique and colorful funeral program template designs to choose from. Select from a variety of funeral programs themes and colors to help capture the uniqueness of your loved one.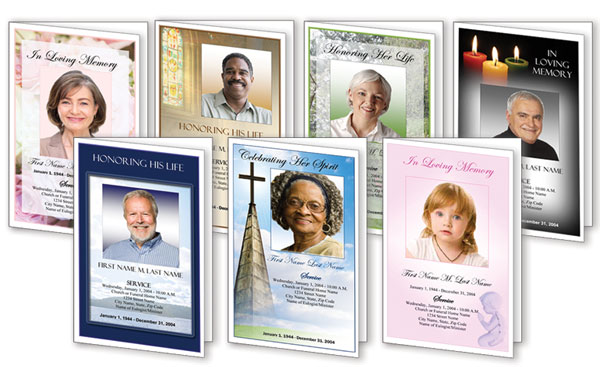 Save Time and Money with Our Funeral Program Templates
Professional Designs formatted using Microsoft Word or Publisher
All text can be changed, including the program title
Flexible designs allows you to change font colors and borders
6 Different Layouts to Suite your needs
Work on your program in minutes with our Instant Download
Live Customer Support