What is a Funeral Program?
The funeral program (sometimes called a funeral brochure, pamphlet or funeral order of service) is the printed document that is given out funeral or memorial services that outlines the key points in the funeral or memorial service and summarizes the life achievements of your deceased loved one. Funeral and memorial programs can also be distributed electronically, such as through email or posted to social media and memorial websites.

The family usually gathers and prepares the information for the funeral program. They may work with the funeral home, church or graphic designer to create it, or they may use funeral program template from Elegant Memorials to create unique, beautiful and personalized custom funeral programs on their own computer and home printer.
Funeral Programs usually contain the following information
Funeral Program Cover photo and background graphics or other clipart with a descriptive caption
Funeral Program Order of Service or Service Outline
A Descriptive Obituary or Life Sketch
Funeral Poems and Scriptutres
Memorial Photo collages and Memorial clipart
Funeral Program Layout


Funeral Program Cover
There are several sections in this programs for funerals. The cover may have a picture of the deceased, as well as their full legal name, date of birth, date of death, location and time of service, officiant, and a title or caption for the funeral program (ex. "In Loving Memory", "Homegoing Celebration", Celebration of Life" etc.).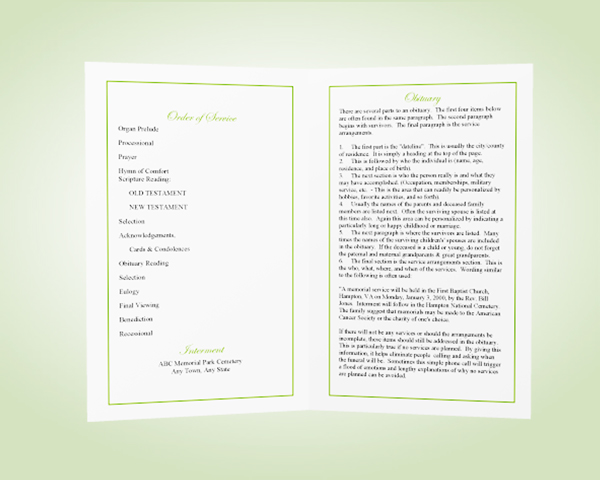 Order of Service
The Order of Service is the next key section of the funeral program. This is the section of the funeral program that outlines the order of events for the memorial service. The information in this section of the funeral program will be greatly effected by the cultural and religious beliefs of the deceased. If the service will is run by religious clergy, it may be best to contact your religious officiates. The funeral director will also have information, and may be able to provide you with a sample of a "typical" service outline for your funeral program.

A typical, religious-based Order of Service in a funeral program may contain the following: a musical prelude, processional, prayers, Song (Hymn of Comfort), Funeral Readings (Scripture, Poem, Prayer, Old Testament, and New Testament), Acknowledgements, Cards & Condolences, Obituary Reading, Eulogy, Final Viewing, Benediction, Recessional, and Interment or Committal location.

A more secular-based memorial order of service may have popular music, song, favorite poems or quotes, eulogies and tributes, and impromptu comments made by friends and family. You can get more information on funeral order of service wording on the Elegatn Memorials website. You can also check out a funeral program sample for ideas.
Obituary
The funeral program may also contain a written obituary. The obituary details the biographical highlights of the deceased person's life. The obituary in the funeral program will detail where the person was born, where they lived, any information about their spouse, children and other information such as hobbies, and personal stories will be shared. It is important that the information in the obituary is reviewed to include accuracy of dates and names.
For more details on obituaries, see "How to Write an Obituary", Sample Obituaries and Newspaper Obituaries.
Surviving Family Members
The immediate family members mother, father, sisters, brothers, should be listed first. Secondly, the immediate family, Aunts, Uncles, Cousins, In-laws, Grandparents, and Grandchildren should be listed. Predeceased family members may also be included in the funeral program to establish genealogy or relation of the person to an extended family.
Other Design Elements
In addition to written information, other design elements can be added to your program to give the program a more polished and personalized look and feel. Consider adding photos of family and friends and photo collages to your program to turn your program into a special momento or keepsake. You can also add memorial clipart such as fancy borders, and frames around photos and text, clipart that helps describe your loved one's personality such as a religious image or a favorite flower. Flourishes and separators can be added to visual clarity and white space to your programs, and give an organized and neat appearance.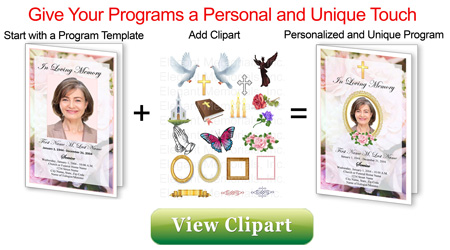 The Back of the Funeral Program:
The back of the funeral program may include a memorial poem, favorite song or prayer. The final section of the program may also include a personal quote from a family member, listing of pall bearers (men that carry the casket), flower bearers (women traditionally carry flowers and place them on the alter) or special acknowledgements (short thank you from the family).

When designing a funeral program, it is important to remember that the funeral program is a keepsake that represents the life of your loved one. The program should be detailed and share the unique personality traits of your loved one.

Make your own Funeral Programs...It's Easy

Purchase and Download template on our secure site, or use Paypal

Edit and Print your program using Microsoft Word or Publisher.

Choose a Funeral Program