Child's Memorials and Funerals
Arranging a funeral or memorial service for a child is an emotionally exhausting task that no parent should ever have to undertake. However, the fact is that children die every day from various causes, so a guide about planning a service is not only greatly needed, but appreciated as well.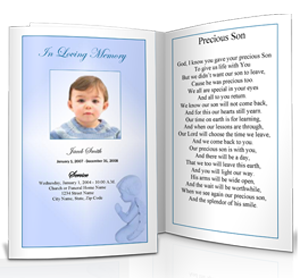 Create the Perfect Children's Memorial Program
Download Edit Print
Templates use Microsoft Word or Publisher or Apple Pages
Many layouts to suit you needs
No Waiting -- Download and edit in minutes
Before You Begin
How your child's funeral or memorial service comes together depends on a variety of factors:
Child's age
Planning time/Budget
Circumstances surrounding the death
Religious background/Cultural Heritage
Involvement of family and friends

Many times, unless the child's death was foreseen because of an illness, parents really only have a few days to plan a service. During that time, they need to decide on everything from burial arrangements to the songs played at the funeral. These tasks are not easy to do alone, which is why parents may need a good funeral director, as well as close family members and friends to help.
Contacting a Funeral Home
The first step in planning a child's service is selecting a funeral home. Parents can either go with a parlor they previously used or choose one closest to their home. In this situation, word of mouth is the best recommendation as it takes some of the legwork out of interviewing directors.
Contact the funeral home as soon as possible after the death. Most are on-call 24 hours a day to assist families, so don't be nervous about calling too early or too late. A funeral director's job is to:
Transfer the deceased child from the place of death to the funeral home
Care for the young one's body by washing, dressing, embalming, cosmetology, etc. (Note: Embalming is not required in all 50 states; check the law in your area first as funeral homes are required offer this service.)
Meet with the family to discuss arrangements including fee schedules. Make sure you get everything in writing from the funeral director including each cost broken down so there are no surprises later.
Help the family pick out a casket or urn. However, families are not required to purchase these burial containers directly from the funeral home; they can buy one at another location and have it delivered (usually for an additional cost).
Handle all the necessary paperwork such as filing the death certificate (and receiving copies for the family), placing an obituary in local newspaper and contacting the family's choice of clergy. The director also handles the details of the funeral on behalf of the family.
Make arrangements with the cemetery or other place of disposition. If need be, provide guest book, prayers cards, funeral programs, thank you notes, etc.
Care for floral arrangements, including transporting them from funeral home to place of disposition or wherever else the family wants them to go.
Arrange for pallbearers and added transportation
Direct the funeral and funeral procession.
Assist the family with death-related insurance and other claims.
Some funeral directors go beyond these duties, offering additional services to the family. Check out all of your options with your local funeral home.
Obtaining a Death Certificate
A typical death certificate will list dates of birth and death, as well relevant information including why or how the child died. While a funeral director typically files all the necessary paperwork for this, it's up to you to make sure you receive it on time from the funeral home or local vital statistics agency.

If your child was stillborn, he or she will not receive a Social Security number or a formal death certificate since there isn't a birth certificate on file. However, in many states, the family can still receive a Certificate of Stillbirth. Check with your funeral director or local vital statistics office to see if this option is available.
Choosing A Location for the Service
Most funerals for children are held in religious settings such as churches or chapels. If the family is burying a child who died in utero, was stillborn or died early on in life, the service is typically a private affair. Older children, especially those in their school-age years, tend to have public services so teachers, friends and classmates can bid their farewells.

However, not all funerals or memorials are held in churches or even funeral homes. The family can choose to hold the event at a park, garden or other venue that would allow this type of public gathering. Your funeral director can help locate the family's choice in a setting. As always, find out ahead of time any fees that may apply.
Creating the Funeral Program
Designing the funeral program is not necessarily done by the funeral director or parents, but by a close friend or family member. A funeral program is a keepsake detailing the funeral service and biographical information about the child. Typical funeral programs include:
Appropriate cover
Funeral order of service
Tribute or obituary
Photographs
Readings, funeral poems or songs
Acknowledgements

You can create a funeral program freehand; however, using a downloaded, pre-designed template makes the job easier. Print the booklets at home from your own computer or take the information to a copy shop to save time, money and ink.

The family can also create their own funeral or prayer cards and thank you notes or have the funeral home do the work. It's something to consider as a way of saving money on the funeral. Throughout this process, the family also needs to select the funeral songs, readings, pallbearers and eulogy speaker, all of which are a part of the program. This is the time to turn to family and friends who want to help out.
Deciding on a Burial
This is, perhaps, one of the more difficult tasks to complete in the funeral service planning process. Selecting a casket or urn is extremely personal and is typically done by only the parents. Like adult caskets, those made for children come in many sizes, materials and colors. Caskets and urns vary in price depending on what you decide; however, if time allows, you can shop around at various caskets stores in-person and online.

The parents must also decide on a burial plot and headstone. Again, this is a very personal choice as it is typically Mom and Dad who will visit the cemetery most often. While a funeral director can help with this process, parents will want to do this themselves.

Inquire about the children's section of the cemetery, as you may want your loved one buried there. If you lost a very young child or baby, some cemeteries may offer a discount if you choose a spot on the grounds that is too small for the average adult burial.

Finally, parents will have to choose a headstone. This is done when the family is ready, not necessarily before the funeral and burial either. Like burial containers, headstones come in a range of sizes, colors and materials, and their prices reflect this.

Typically, a Biblical verse or short poem or phrase is engraved on the headstone along with the child's name and birth and death dates. An image of the child or related graphic can also be a part of the headstone. Headstones typically take up to a few months to design and place. In colder areas, some cemeteries wait until the ground thaws from winter to place the headstone.

One Last Goodbye
On the day of the funeral or memorial service, the parents of the deceased child need not worry if things are running smooth or on time. There are others to take care of this. The family is heavily grieving their child, will soon say their final goodbyes and learn to live their lives without this young one.

The parents, siblings, grandparents and other close family members should spend their time grieving with each other and not be bombarded by guests and sympathies. Those can come later. A funeral or memorial service for a child is overwhelming and exhausting.

After the service, a small reception may be held at the family's home or local clubhouse or restaurant. Again, this is something the family has to decide upon and may rescind their offer to attend or spend a short amount of time there.

After the Funeral
It may take a few weeks or even months for a family to start recovering from a child's funeral and start living their new lives. That doesn't mean they don't appreciate visitors, sentiments or ever phone calls from family and friends. Bereaved parents want to talk about their children, so don't be afraid to ask.

For parents, don't be afraid to show your emotions, which can change very suddenly and unexpectedly the days following a child's death. Take things day by day and be sure to ask for help with whatever you need.