Homegoing Service Celebration
The term "Home Going","Homegoing Service" Homegoing Celebration, or Homegoing Ceremony is a Christian funeral or memorial in which friends and family celebrate the deceased "going home" to heaven or glory, to be with the Lord. This term is frequently used by the African American religious and church community. The homegoing service is based on death being a time of rejoicing because the person is going on to heaven. It is usually held in a church or place of worship, and is often very similar to a traditional church funeral service. The homegoing service usually contains a combination following elements:

Musical prelude

Processional

Songs (Hymns of Comfort)

Funeral Readings (Scripture, Poem, Prayer, Old Testament, and New Testament) Acknowledgements

Reading of Cards & Condolences

Reading of Funeral Resolutions

Eulogy or Tribute

Funeral Sermon ( Usually given by Pastor or other Church Official)

Final Viewing

Benediction

Recessional, and Interment or Committal
The Homegoing Ceremony also has the traditional funeral elements, such as pall bearers and flower bearers.
Homegoing services usually has a choir and lots of singing and music (often sings the deceased's favorite hymns and songs), and often a sermon is preached, in addition to a eulogy, tribute or life sketch Sometimes, a few close friends and relatives will give short (about 2 minute) tributes that tell of the great times and experiences shared with the person being honored. There may also be video slideshows shown at these services.
Homegoing Service Programs
Homegoing Service Programs or Funeral programs and other keepsakes are usually an important part of the homegoing service. These programs are given out to guests and contain a full tribute to the deceased person's life. These funeral or homegoing programs contain a cover photo, the order of service that outlines the services of the day, as well as provides an obituary and often has photo collages and a pictograph of the person's life. These programs can be in many different paper sizes, styles and layouts, and can often have many pages. The homegoing program is often as unique and special as the service, and friends and family members look forward to receiveing them. Checkout our Homegoing Program Sample and our Funeral Program Sample Gallery for more ideas for homegoing programs.
Create A Homegoing Program...It's Easy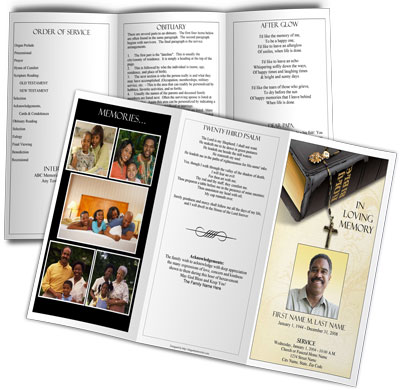 Save Valuable Time and Money Creating Your Own Program
Professional Designs formatted using Microsoft Word or Publisher or MAC Pages
All wording can be changed, including the program title
Flexible Designs and Layout
Instant Download and Live customer support