Military Funeral Planning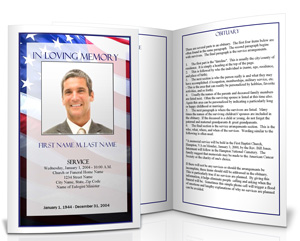 While most funeral services are steeped in tradition, none are more time-honored than military funerals. These services are held for retired or honorably discharged members of the U.S. Armed Forces. Military funerals are also held for those who have died in the line of duty both inside or outside the combat theater.
Planning a Military Funeral
When a loved one who is or has served in the military passes away, he or she may be eligible for a military funeral. Commonly called Military Funeral Honors, these recognitions show reverence and appreciation to the man or woman who died. These honors include:
• Honor Guard Detail of at least two members of the Armed Forces, with at least one being from the same branch as the deceased person. This person is called a parent service representative.
• Folding the U.S Flag by a member of your loved one's parent service; this person also hands the flag to the next of kin.
• "Taps" played from a bugler or an electronic recording.
When planning the service, family members must inquire about these special honors from the funeral home director. He or she will make the proper arrangements.
Military Funeral Honors Eligibility
Specifically, the following persons are eligible to receive Military Funeral Honors:
• Active duty military members or those in the Selected Reserve
• Former members of the military who were active duty and departed under honorable conditions
• Former military members who who completed one term of enlistment and was honorably discharged
• Former members of the military discharged from the Selected Reserve because of a disability in the line of duty
Attending a Military Funeral
Guests at military funerals are expected to act in a certain manner. Members of the U.S. Armed Forces are required to follow a code of conduct that includes wearing a dress uniform and saluting when:
• The hearse passes in front of them
• Any time when the casket is being moved
• During the gun salute and "Taps" presentation
• When the casket is being lowered into the ground
In lieu of saluting, servicemen and women in civilian dress are required to remove their hats and place it over their hearts, or simply just use their right hands if hats are not worn. They shall remain standing for the entire service until the committal service is read.
Friends and family members attending a military funeral should be dressed respectfully in dress clothes and shoes. Casual clothing, in this instance, such as jeans, shorts, t-shirts, etc., is typically frowned upon. Comfortable shoes are recommended as military funerals tend to run longer.
Additional Military Funeral Customs
There are several other military funeral customs available:
• A U.S. flag is draped over the coffin with the blue field of the flag placed at the head of the casket, over the individual's left shoulder.
• Three rifle volleys can be held after the gravesite service is done. A casing from the rounds shot is given to the next of kin.
• Military services held at Arlington National Cemetery have a service person standing vigil over the casket until it is properly interred.
• Military funerals for heads of state include having the casket placed on a caisson and pulled by several horses. A riderless horse follows the caisson with a pair of boots facing backward in the stirrups. This symbolizes that the deceased person will never ride again.
Personalized Memorial Items
Even with all the traditional elements of a military funeral, you can include other items to make a more personalized memorial experience for your loved one.. A way to individualize the memorial service is to include other mememorial keepsakes such as funeral programs, memorial keepsakes such as funeral bookmarks, and prayer cards. Check out our funeral program and memorial card templates to help you get creative. You can also include memorial collages and photos to help personalize your military funeral experience. Memorial slideshows are a great way to convey a personalized memorial experience. There are many military memorial templates and lots of information on selecting personalized memorial poems, scriptures, writing an obituary, eulogy and memorial speeches and sayings. To get some visual ideas, see our articles on military funeral program samples and how to display photos as a memorial services, just to name a few.
After the Funeral
The next of kin needs to notify the U.S. Department of Veterans Affairs soon after the death and file a claim for survivor's benefits. The U.S. government is required to pay a death pension and, if applicable, a dependency compensation to a surviving spouse and family members. There are different types of burial allowances and benefits available to the deceased, honorably discharged vets and their immediate family members. Copies of marriage licenses, birth certificates and proof of service are required.