Download a Funeral Program Template
Using the internet to find funeral program templates are a quick and easy way to start working on a funeral program for your loved one immediately. When you select and purchase a template from the a website, you can usually download and begin working on your program within minutes. To "download" is to put a copy of the file onto your computer. When you use a downloadable funeral program template, you will be working on a copy of that template on YOUR computer. All changes that you you make will be on your computer.

Once you've purchased a template, you'll get some kind of instructions on how to download your funeral or obituary program template. Most of the time you will be transferred back to the website after you've paid for your editable funeral program template download to an area that will have a button or link for you to click to begin the download.
---
You Can Download a Funeral Program Template
---
When you purchase a template from Elegant Memorials, you can look in your order details on the website after you've made your payment and find the "Download" button. You will also get an email that will have a link to your order details that will get you to the download area.
Tips for Downloading Templates
Download your template as soon as possible -- Most websites only keep the funeral program template file available for a few days. So, make sure you download right after purchase so that the file will be available when you need it.
Pay attention to where your template is downloading -- The default location of downloads can be different from computer to computer, but usually it is in the "Downloads" directory or even the "My documents" folder. This default download location can also be different on different Internet Browsers, such as Internet Explorer, Firefox, Chrome and Safari.
When downloading, SAVE THE FILE FIRST, instead of just opening it immediately. This is very important. Sometimes, your computer will try to open the file for you automatically. When this occurs, your computer will pick the program to use, and sometimes it doesn't select the right program. Also, if you start editing the template without actually saving the file first, you can sometimes lose all of your changes.
**Important: After you have downloaded your template, make sure you save it, and you know where it is located, before you start editing.**
Before editing your template, make a copy of it first. -- Change the name of the file to something descriptive (like "program for dad.doc" or something). This way, if you make a mistake that you cannot recover from, you can easily go back to the original template file and start again.
Edit your template. Open and edit your downloaded template on YOUR computer and begin writing and creating a unique funeral or memorial program. We have several resources available to help you create your program, including How to Edit Your Template Videos as well as an entire section on How to Make a Funeral Program. Once you have completed your program, you can print your editable program yourself, or save your funeral program template PDF and take it to a print or copy shop.
If you will be using the template again, consider making a backup copy of the template or a funeral program pdf on a portable drive.
Save Time By Downloading our Templates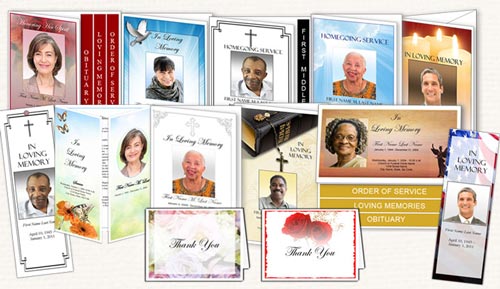 Professional Designs formatted using Microsoft Word or Publisher or MAC Pages
All wording can be changed, including the program title
Flexible Designs and Layout
Instant Download and Live customer support