Funeral Program Template Sample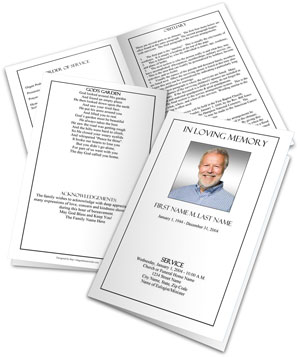 Bifold Plain Funeral Program Template
This is our plain bifold (single fold) funeral program template. This basic funeral program template design doesn't have a standard background design. It just has borders around the pages for a clean and elegant programs. This template prints on a standard letter size paper duplex (double-sided) and folds down the middle. This is the easiest layout to work with. Also, this funeral program template is available in Microsoft Word, Microsoft Publisher and MAC IWorks Pages format. The Microsoft Word version also works with Apple Pages and OpenOffice Word Processors.

Simple Funeral Program Template Sample Outer Cover
This is the Plain Bifold (Singe Fold) simple funeral program template. It has a plain white background. There are thin, solid line borders around each page. These borders are created with Microsoft Word, Microsoft Publisher or MAC Pages, and the colors and design styles can easily be changed. This simple, versatile and easy funeral program template design can be used for funerals, memorials, celebration of life services or or homegoing ceremonies. The front cover has a photo of the deceased. This photo can be displayed differently by adding a different autoshape such as an oval, or you can display it in a clipart picture frame. This program also displays has the service details, and the birth and death date.
It also has the funeral program title "In Loving Memory" that can easily be changed to suit your needs.
The back cover contains a funeral poem and an acknowledgement from the family. This plain design is the perfect "blank canvas" for you own unique design. You can insert additional photos and memorial clipart, or even add your own background design to make this program special and unique.
Funeral Program Sample Inner Page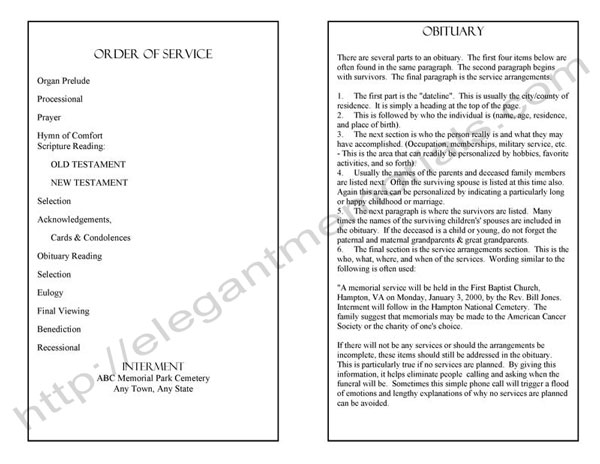 The inner page of this easy funeral program template sample has an example of an obituary on the right hand side panel. The an obituary for a funeral program is typically longer and more personalized than the standard obituary that you may publish in the newspaper. You can include information such as where they were born, what their childhood years wee like, schools attended, career information, special accomplishments and information about family members. You could also create a life sketch or a funeral tribute. The left hand side of this program displays a funeral order of service which has prayers, musical selections, an obituary reading, eulogy and a remarks from friends and family members. For more information suggestions on what to put in your program, see our article on what to include in a funeral program. You could also add an additional page and include more family photos or a funeral program collage, clipart and personal notes about your honored loved one.
Elegant Memorials has a wide range to templates including simple funeral program designs to unique and colorful funeral program template designs and layouts to choose from. Select from a variety of funeral programs themes and colors to help capture the uniqueness of your loved one. Check out our funeral program sample gallery to get geat ideas to help you create the perfect program for your funeral, memorial, homegoing or celebration of life service or ceremony.
Save Time and Money by Using our Templates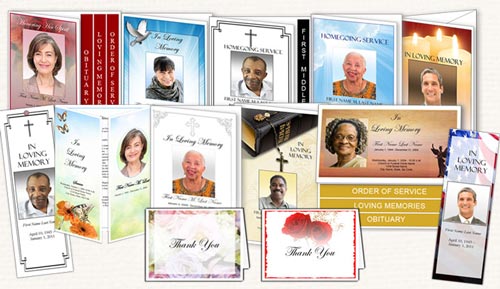 Professional Designs formatted using Microsoft Word or Publisher or MAC Pages
All wording can be changed, including the program title
Flexible Designs and Layout
Instant Download and Live customer support