Funeral Program Template - Microsoft Publisher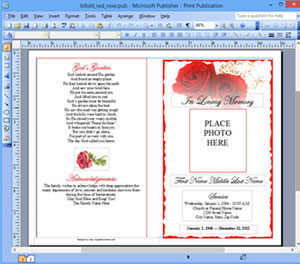 Funeral program templates are preformatted documents that help you easily create funeral and memorial programs for your funeral, memorial of celebration of life service. These templates have a design on the cover, and are usually pre-formatted with and order of service, obituary, poems, scriptures funeral song lyrics and other personalized information. These templates can also come in a variety of software program formats including Microsoft Word and Microsoft Publisher.
Microsoft Publisher is an entry level and easy to use desktop publishing program. It can be purchased as a stand-alone software program or it bundled with Microsoft Office Software Package. Publisher differs from Microsoft Word in that it's focus is on page layout and design rather than text composition and proofing. Placing photos, images and textboxes are much easier in Microsoft Publisher, and using a funeral program template formatted for Publisher will give you much more design flexibility when creating photo collages, watermarks and other design techniques.

Even though Microsoft Publisher is more focused on page layout, it has a very similar "look and feel" to Microsoft Word. If you have used MS Word before, you shouldn't have any problems understanding how to use the Publisher program. However, things are slightly different, so you may need to take some time to get comfortable with using Publisher software. If you are using a Microsoft Publisher version of a funeral program template and you are not familiar with Publisher, you should probably use Microsoft Word. However, if you are comfortable using the program and if you require more flexibility when placing clipart, photos and other word and font design elements, consider using a funeral program template formatted for Microsoft Publisher.
For more information about funeral programs and templates, see our sections on Funeral Programs, Funeral Program Gallery