Christian Funeral Program Sample
Here is a sample of a Christian theme funeral program. Religious theme funeral programs are very popular since many funerals and memorials are still held in churches, synogues or chapels. If your loved one was a spiritual person, or was very active in church, you may want to consider selecting a religious theme funeral program template.

Outer Funeral Program Cover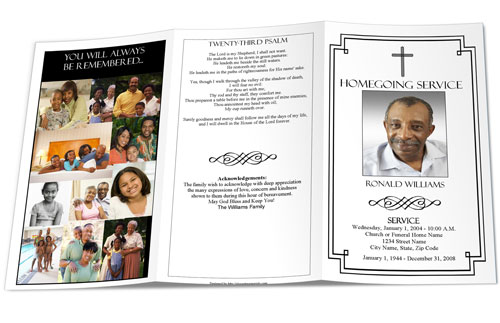 This program features an 8 1/2" x 11" trifold layout, a conservative black and white color scheme with a small cross in the center. There is a cover photo, birth and death information and funeral service information.
The middle outer panel has a traditional and commonly used "23rd Psalm funeral scripture" and an acknowledgement (thank you note) from the family, thanking them for attending the service. There is also a flourish clipart separator for and extra design element.
The left back panel features a family photo collage. Small photos were inserted and neatly arranged, and a loving caption was placed above the collage.
Inside Pages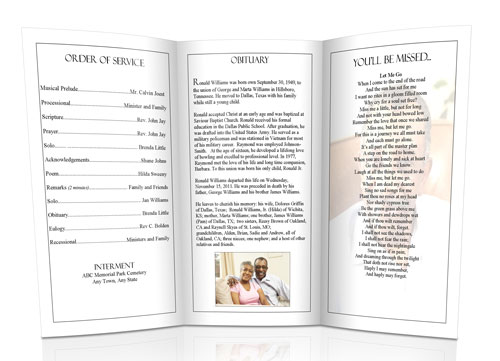 The inside left panel has a christian order of service which has the typical elements of a traditional christian funeral service including musical prelude and hymns, scripture and prayers read by the officiating minister, poems and acknowledgment and remarks read by various family members or friends. There is also an offical reading of the obituary and eulogy. See our article on Writing and Funeral Order of Service for more information.
The middle panel as a written version of obituary which tells the life accomplishments of the deceased. There is also a small picture under the obituary.
The right panel has a heartfelt poem. For an extra design touch, a background picture (also called watermark or washout picture) of the deceased was added.
For more information on creating this program, see our articles on what to include in a funeral program.