Writing a Funeral Program Order of Service
Writing the order of service can be very challenging. You will have to consider what elements you will include in your service, and who will in it. Before you get started writing, seek guidance. For more funeral order of service ideas, see our Sample Funeral Program Gallery.
If you are holding a traditional funeral...
If you are creating a program for funeral service, your funeral director or church pastor or minister can help you create your order of service. They have arranged many services, and often have samples or guidelines to help you get started.

If you are considering a traditional funeral in a church...
Usually the church minister or the funeral officiate gives instructions about how the service should be conducted. They can ensure that their particular service protocol is followed. Make sure to coordinate with church officials as soon as possible to make sure that any specific and personalized requests can be incorporated in the services.
If using a Funeral Home Chapel or facilities...
Consult with the funeral director and get guidance about conducting memorial services. Funeral Home staff can provided you with sample funeral outlines of previous services, and give you an overall tour of their facilities so that you plan your service appropriately.
For informal memorial ceremonies...
You have the most flexibility. Just make sure that your venue (parks, restaurants, community centers) can accomodate you for audio/visual equipment (if needed), microphones, slideshows, refreshments etc.
Information that may be in an order of service or funeral program outline.
A tradition funeral order of service may include the following:
Musical Prelude
Introduction / Words of Welcome
Prayers
Scripture Readings
Musical Selections/Hymns
Formal Reading of Obituary
Eulogy/Life Tribute
Brief Informal Tributes
Thank you and Acknowledgements
Viewing of Deceased
Closing/Benediction
Also See our Funeral Program Order of Service Samples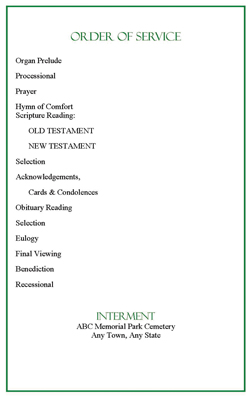 Non-Traditional Order of Service (Funeral and Memorials)
Introduction / Words of Welcome
Opening Music
Readings
Musical Selections
Formal Readings
Moments of Silence/Meditation
Eulogy/Life Tribute
Brief Informal Tributes
Thank you and Acknowledgements
Viewing of Deceased
Closing
Once you know what the elements of your service will be, you will have to determine who will do what in your program of funeral service. You will need to list the names of the Pastor or Officiant, names of funeral readings and scriptures, the name of the Eulogist and any other formal information. You may want to limit the use of specific names to minimize last minute changes that may occur. Consider writing "musical selection" or "tributes" instead of giving the secific name of the soloist or person giving comments.
You can consult the internet to find different samples of funeral orders of service to give you ideas on how to type it. There are no hard rules about what format you should use, as long as it is easy to follow. You may consider sending a draft to the church or funeral director before you publish it in your program. And, of course, consider using a funeral program templates from elegant memorial to make your order of service document easier to make.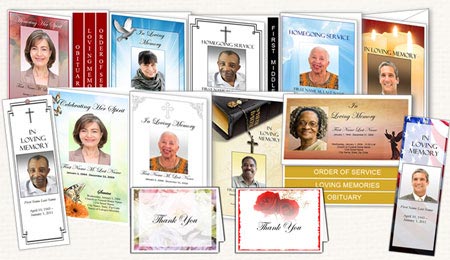 Save Time and Money with our Funeral Program Templates
Professional Designs formatted using Microsoft Word or Publisher
All test can be changed, including the program title
Flexible Designs and Layout
Instant Download and Live customer support