Funeral Program Titles
The funeral program title (or caption) is on the outer cover of the funeral program or keepsake, and describes how to will honor your loved one. The title (also called the funeral program heading), reflects the tone of the funeral or memorial service. There are many titles that you can use. Some are very common, others may be unique to you. You can also use excepts from a favorite poem, quote or bible verse to help reflect your feelings toward your loved one and to title the funeral or memorial ceremony. Here are a sample of some common (and not so common titles for funeral programs or booklets).

Common Funeral Program Titles and Captions
In Loving Memory
In Remembrance
In Memorium
Celebrating the life (of)
Celebrating His/Her Spirit
Homegoing Celebration
A Loving Tribute
Forever in Our Hearts
Heavenly Departure
Celebrating Precious Memories
A Loving Farewell
Remembering Our Beloved
A Heavenly Departure
Forever with the Lord
A Life Well Lived
Remembering our Beloved
Precious Memories (of)
A Life Tribute
Remembering a Blessed Life
Rest in Peace
Celebrating the Legacy of
You can also use these captions for other memorial keepsakes such as memorial bookmarks and memorial prayer cards. Selecting the title of your program is just the first step of creating your funeral program or memorial booklet. You will also have to write a funeral order of service or memorial service outline, select memorial poems, and write an obituary. If you are including pictures, you will need to gather them and get the ready to insert into your program. For more information on funeral programs and printed keepsakes see our articles on "What goes in a Funeral Program" and "Make a Funeral Program. These articles will give you helpful tips to help you quickly and easily create a unique and professional looking funeral program that honors your loved one's memory.
Make The Perfect Funeral Program ... It's Easy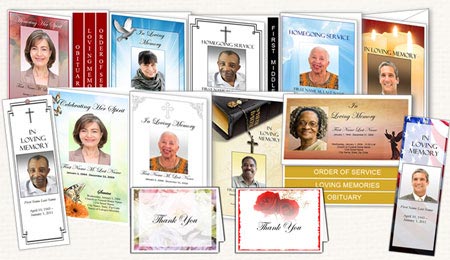 Templates use Microsoft Word or Publisher or Mac Pages
All wording can be changed, including the program title
Flexible Designs and Layouts to suit your needs
Instant Download and Live customer support