Military/Veteran Funeral Program Sample
Below is a sample of a military/veteran funeral program. Many people have spent time in the military, or have retired from service, and the military can be a very important part of that person's life. Using a military-themed funeral program is a great way to honor and celebrate veterans. There are many different military and patriotic visual designs and backgrounds that you can use for you military-themed program. You can use the insignia of the branch of the military your loved one was in (such as the specific, army, navy, air force or marines) or you can use and "patriotic themes" such as flags and eagles.

Outer Military Funeral Program Cover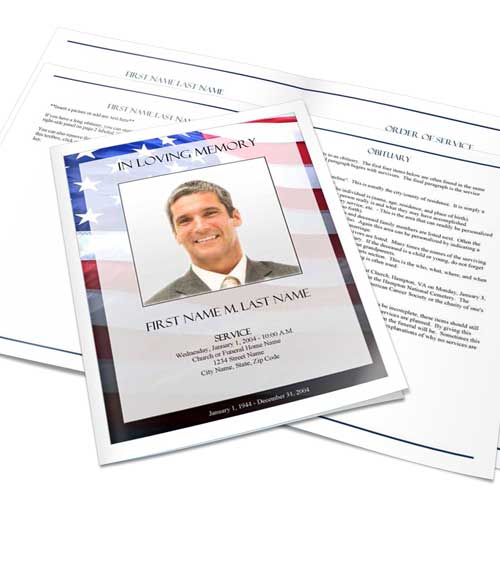 This program features an 11"x17" 8 panel Bifold (Single Fold) layout. Of course, this design comes in a wide variety of sizes including 8 1/2"X11", 8 1/2"x14 and small card size. You can also choose from many different layout styles, including single fold, trifold (Z fold), graduated or step folds and flat memorial cards. The background graphics for this patriotic design features the American Flag as the backdrop. It also features a cover photo, birth and death information and funeral service information.
You can include a wide variety of information in your program. The amount of information you want to include can help you decide what size and layout you will need to purchase. For more information about the various types of information you can include in your verteran memorial program, see our section on how to make a funeral program.
Inside Pages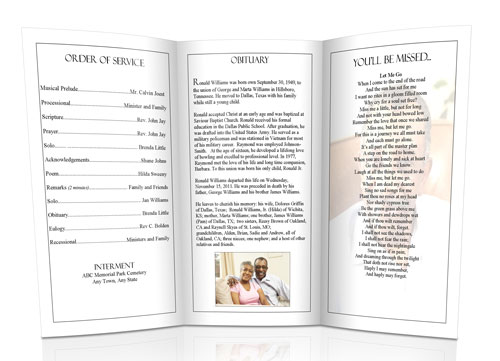 You can include any information that you want, depending on how much space you have in your funeral program template. There typically is going to be a funeral order of service that gives the details of the service. This information can come from your church, pastor or officiant. If you want a more "traditional military funeral", check out our article on military/veteran funeral planning.
There is typically a written obituary in funeral programs. This gives the details of your deceased loved one's life. There are many resources on this site that gives information and examples on how to write an obituary or life sketch. Feel free to include favorite poems, readings, and sayings. You can also include beautiful photos of friends and family in this program.