Skills Needed to Start Your Funeral Publications Business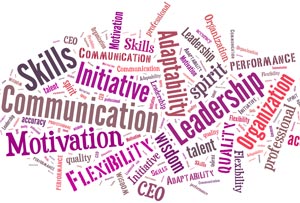 It's time to dive in to the basics of what it takes to run a successful funeral publications business. Although there are no specialized skills needed, there are some basic skills and personal characteristics required to succeed.
Computer Skills Required
• Basic Skills on a Wordprocessor or Desktop Publisher
You will need to understand how to open and edit documents, add and format text and do basic graphic functions such as inserting pictures or changing font sizes and colors. The most commonly used programs are Microsoft Word and Publisher or MAC Pages.
• Basic computer operation skills
This includes the ability to open, save, copy, rename, print, email, download and upload files.
Basic Business Skills Required
To see your funeral program business succeed, you will need to develop your "business sense" and understand some basic business concepts. You probably already have a lot of these skills, they just need to be expanded to run and grow your new business.
These are the basic business concepts you'll need to understand and become skilled at in order to succeed:
Bookkeeping -- You must keep track of your spending and how much money you receive for your services (expenses and income) and you will need to understand how to price your products so that you make a profit.
Marketing Concepts -- You must learn how to "get the word out" about your business, otherwise you'll never gain new customers. This includes learning how to reach new audiences in places where they'll be looking for your services.
Salesmanship -- You MUST be willing to "sell" people on what you are doing. Even if you aren't comfortable with being a "salesman", you have to be willing to "talk up" your business and be able to explain to people why they need your services. (Think about it: how else will they know to turn to you in their time of need?)
Communication Skills -- You must be comfortable talking about your business, because you're going to be working with people! Even if you don't consider yourself a good communicator, it's possible to learn basic communication skills and then practice them until you're comfortable.
Personal and Organizational Skills Required
You must become a self-starter. You're the boss now, so be ready to motivate yourself!
You must become a decision maker! -- Making decisions is crucial when running a business. You may not always have all the information you need, but you will still need to make decisions and keep things moving forward in your business. Remember, you will never have all the answers. A lot of running a business is really just "trial and error".
You have to be willing to learn new concepts.
One thing you can count on—things will change! From business, to your customers, to technology, you must be willing to keep up your skills and learn new ones. What works today may not work tomorrow, so don't get left behind.
You'll need to develop organization skills -- You must find a way to organize yourself. You must manage and track tasks, customer information and your money. It doesn't have to be an elaborate or sophisticated system, just as long as you manage the important information that you need day to day.
Does all this have you in a panic? Don't worry! If you don't have all these skills now, there are easy ways to learn them, especially with all the instructional videos available online.
Remember, this entire journey will be a learning process. Don't be afraid to try. You will learn what you need as you go forward.