Funeral Program Business Software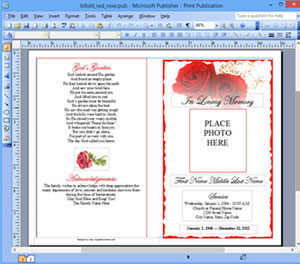 Now that you've decided what computer equipment you will need, it's time to make sure you have the right software available. There are many different software programs that you can use to create funeral publications. Some of these programs can and should be installed on your computer, and some may be available on the internet or "in the cloud".
Here is an overview of software that you may want to have. Once you have reviewed them, pick one word processor, maybe one desktop publisher and one photo editing tool to use for most of your funeral programs.
Purchasing, maintaining and learning too many programs will waste your valuable time. Many of these programs do the same thing, so pick the ones you like the most and use them.
Word Processors
If you are just starting out, you will probably use a word processor to produce your funeral programs. Almost everyone has some experience with using word processing software. These days, word processors have good graphics functionality such as the ability to add clipart, photos, pictures and fonts, as well as graphics formatting such as adding borders and color fills. Here are a few common word processors.
• Microsoft Word
This is the most popular word processor. You can easily create funeral and memorial programs using Word. There are also many templates available in Microsoft Word format. It available for both PCs and MACs.
• Open Office Write (Open Source)
This is the Word Processor that comes with the OpenOffice Office Suite. This Word Processor is popular because it can open Microsoft Word Documents and it is FREE. Yes...FREE. So, you don't have to wait until you can purchase Microsoft Word; you can download and install OpenOffice and get started right away. OpenOffice Write has almost all the functionality of Microsoft Word for free. Look into it!
• Apple Pages (Pages for Mac)
This is a popular Word Processor and Page Layout software for Mac. This program is very reasonably priced, and it can open Microsoft Word documents.
Desktop Publishers
Desktop Publishers are for graphic layout and can also be used for creating funeral programs. Desktop publishing software is probably the better program for creating funeral publications, but you may have to invest some time into learning how to operate the software. Here are a few of the more popular desktop publisher programs.
• Microsoft Publisher
This is a great entry-level desktop publishing program that functions a lot like Microsoft Word. In my experience, Publisher is easier for photo, image and textbox manipulation. If you have solid understanding of Word, it will probably be easy to transition to Microsoft Publisher. See our article on creating funeral program using Microsoft Publisher.
• Adobe InDesign
This is a higher-end Desktop Publisher. If you have never worked with a desktop publishing or graphics software, you will have to invest some time in learning the program. This is a full-featured and robust program, but it may be a bit overwhelming. You may also have a hard time finding templates for this program.
• Scribus (Open Source)
Here's another FREE option for getting started with your funeral program design business. Scribus is open source software that features more than two hundred color palettes and the same basic design capabilities as better known software packages. You can't directly import or export to and from Microsoft Word or Publisher, so you would need to save your files as .pdfs to send to customers.
• Other Desktop Publishing Programs
Other less commonly used desktop publishers include PrintMaster, PageMaker and PagePlus. Many design people use these programs, but you may run into issues if you have to share files with printers or clients.
Graphics Software
As you get more advanced with creating funeral programs, you may want more functionality for manipulating photos and images. Advanced tasks such as resizing very large photos, cropping, image editing and special effects can be done using these photo and graphics programs.
• Photoshop Elements
This program is a much smaller and less complicated version of Photoshop that's used for photo editing and graphic design. You can do a variety of advanced photo manipulation functions with this program including cropping and removing backgrounds from photos, color corrections, special effects and masking.
• Photoshop
Photoshop is the gold standard for photo manipulation and graphic design. This program, however, is very expensive and it takes a big investment of time to learn it.
• Picasa
Here's a free image editing tool to edit and manipulate photos. You can download a version for either Windows or Mac operating systems.
• iPhoto
If you have a Mac computer already, chances are it came with iPhoto installed. It's a basic photo editing program similar to Picasa.
There are many other free and paid tools to help you edit and do special effects to your photos, but don't get carried away with them. Pick one or two software applications, learn them and use them for most of your funeral program creation. This strategy will save you time and money in the long run!
Also see our article about funeral program collage websites for ideas on quick ways to make photo collages.