Creating a Funeral Programs for Customers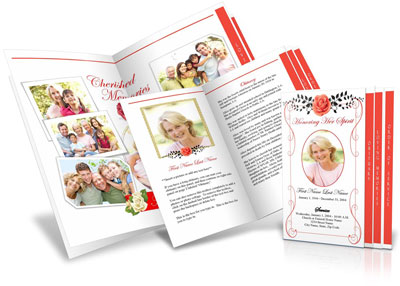 Now that you understand what is involved with starting a funeral or memorial program and keepsake business, let's move on to actually creating funeral programs and keepsakes. Before we get into creating the program from a template on your computer, let's discuss the elements that are usually included in a standard funeral program.
When you go into this business, your clients will expect you to have a basic understanding of the information that goes into a program. They will be grieving and probably have no idea where to start with this process. You must be ready to offer suggestions (having physical samples really helps) to help them complete this task. Having this ability will set you apart and help build your reputation quickly.
Here is a list of some of the information that might be in a funeral program or memorial booklet. Not all of this information is needed, but this will help you understand what your customers might be looking for.
Information for a Funeral Program
Program Title – This little snippet of information is powerful! It actually sets the tone for the service being held. Possibilities—In Memoriam, Precious Memories, A Loving Tribute, In Remembrance, A Fond Farewell, Joyous Homegoing, A Celebration of Life, Celebrating the Spirit of …, or even a phrase from a song or poem. See our article on Funeral and Memorial Program Titles
Service Information – Date and time of service, person officiating.
Cover Photo – Here's where they can share a more formal photo of the person who has passed.
Written Obituary – Many people like to include a brief obituary as part of the keepsake. See our extensive information on how to write an obituary and sample obituaries or funeral program obituary for more information.
Order of Service – It's helpful to let those attending know what to expect by providing a written funeral order of service.
Prayers and Scriptures – Including a written funeral prayer or verses of Scripture can provide comfort to those who are grieving and honor the deceased's Spiritual legacy.
Poems and Song Lyrics – Providing the words to a song that will be sung during the service, or a copy of funeral or in loving memory poems that will be read, is a helpful gesture to include in the program.
List of Pallbearers and Flower Bearers – Include the names of both actual and honorary participants.
Thank You and Acknowledgment Notes – It's also appropriate to include a note of thanks for support and gestures of kindness.
Funeral Photo Collages – Because you'll be skilled at creating photo collages for your clients, you can offer them the option of placing a collection of photos within the funeral program.
Funeral Clipart – Help your clients further personalize funeral or memorial programs by adding clipart flourishes, banners and images.
Of course, not all of this information needs to be included in every funeral program you design. The style of service, whether informal farewell gathering, formal religious service or joyous home-going, will influence the information shared.
By knowing the options, you can assist your clients in creating a unique, personalized funeral or memorial program that reflects the life of the person being honored.