Homegoing Program Sample
Trifold Classic Cross Homegoing Service Program Sample
This program uses the trifold Classic Cross Funeral Program Template. This classic design is perfect for a religious homegoing service. This program features an order of service, obituary, funeral poem and acknowledgment. There is also collage to showcase your loved one's photos of family and friends. We've also added a design element of a "washout" or watermark image in the background of a lovely poem.

Homegoing Program Sample Outer Cover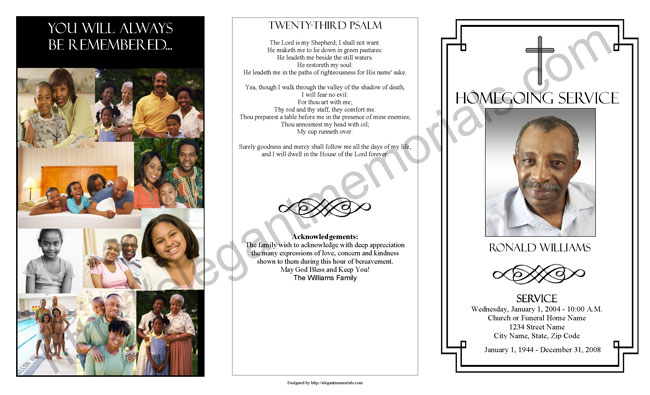 This homegoing program example uses the Classic Cross Trifold layout. The funeral program cover has the title "Homegoing Service" and has a picture on the cover. Also on the cover is the full name, homegoing service information, and birth and death date. There is a decorative flourish on the front cover for an extra design element. The middle panel shown, which is the back of the program when folded, contains standard funeral program information such as a poem or scripture and a standard thank you acknowledgement from the family that publically thanks friend, guests and family members for cards, prayers, and thoughts.
The left hand panel has a funeral program photo collage. Including pictures and family photos in photo collages is a very standard practice, and these photos help turn your program into a treasured keepsake. You can easily add pictures onto your program using Word or Publisher. Once added, you can resize them and crop them to make the perfect collage.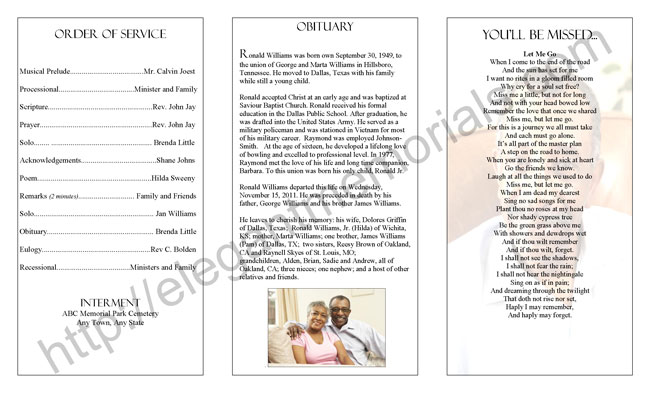 The Homegoing program sample inside page is also divided into 3 panels. The left hand panel has an order of service that lists the order of events for the homegoing service. It lists common elements of a homegoing service. You can find more information about homegoing services on this website. The middle panel has a brief obituary, that gives personal information about the deceased. The far right hand panel has a beautiful funeral poem, overlayed on a watermark photo of your loved one.
Elegant Memorials has over 100 unique and colorful funeral program template designs and layouts to choose from. Select from a variety of funeral programs themes and colors to help capture the uniqueness of your loved one. Check out our funeral program sample gallery to get geat ideas to help you create the perfect program for your funeral, memorial, homegoing or celebration of life service or ceremony.
Choose the Perfect Homegoing Program Design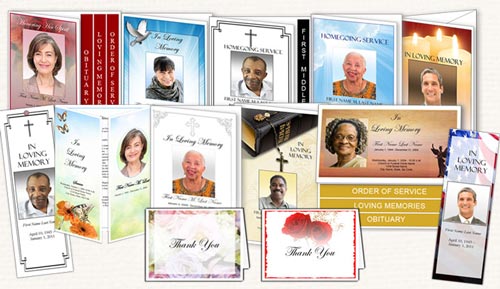 Professional Designs formatted using Microsoft Word or Publisher or MAC Pages
All wording can be changed, including the program title
Flexible Designs and Layout
Instant Download and Live customer support
We have a variety of resources on this site to help you create the perfect program. Some or our information includes: