Funeral Service or Memorial Service
What is the difference, and which one is right for your family?
There are several differences between a Funeral Service or a Memorial Service. Both celebrate and honor the life of a loved one. A Funeral Service is more traditional while a Memorial Service tends to be more non-traditional.
Funerals...
The body of the deceased will be present at the Funeral Service
Funeral will usually occur within a few days of the individuals' death. At the discretion of the family, a funeral will have an open casket ceremony (where the body can be viewed) or a closed casket ceremony.
Funeral Services tend to be more expensive since they usually involve the purchase and display of a casket, transportation of the body to the church and burial ground, as well as embalming (the dressing and preparing of the body for viewing).
A Funeral Service involves a Funeral Director and a Funeral Home, which can be a source of comfort to the family as they are very experienced in the grieving process and handle the supplies and logistics of the funeral.
Funeral Services are becoming increasingly personalized. Funeral Homes and Directors will often offer funeral programs, keepsakes and other personalized options to help uniquely honor your loved one. Most Funeral Directors will be flexible and open to any ideas you may have to personalize the funeral service of your loved one.
Make a Funeral or Memorial Program...It's Easy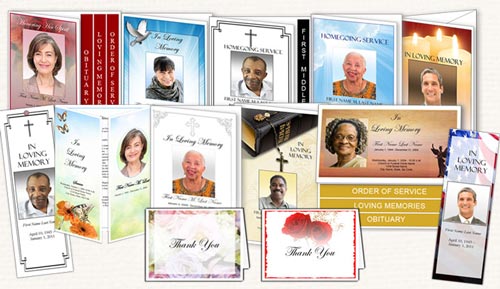 Professional Designs formatted using Microsoft Word or Publisher or MAC Pages
All wording can be changed, including the program title
Flexible Designs and Layout lets you change fonts and borders
Instant Download and Live customer support
Memorials...
A Memorial Service also pays tribute to the life of the deceased; however, the body of the person that has died is not present. Since there is no body present, it allows the Memorial Service to be held at a variety of locations. The Memorial Service can occur days, weeks, even months after the person died.
Memorial Services are becoming increasingly popular as people are looking for more unique and personal ways to celebrate the life of their loved one.
They are more economical as they do not involve embalming, caskets, urns, or transportation. The Funeral Home will still handle either the cremation or burial of the body, and can participate in any part of the Memorial Service deemed appropriate by the family.
Traditionally, the family and friends of the deceased tend to be very involved in the planning of a Memorial Service optimizing its personalization.
Also See Articles on Memorial Service Ideas and Parts of a Memorial Service