Personalizing a Funeral or Memorial Service
Integrating Photos and Personalized Items into a Funeral or Memorial Services
Photos and personalized items in memorial services have several purposes.
First, the items provide visual reminders of the life of the deceased.

Second, attendees have the opportunity to contribute their own items that remind them of the person.

Third, some items can be given to guests as parting gifts.

There are a variety of ways to organize and present these items at memorial services. Photos of the deceased, at any age, may be utilized to describe the person's life. It is beneficial to have varying photos since many of the service attendees may have known the person at different points of his or her life. Overall, photos help family members focus their attention on the deceased, and allow them to replay memories of the person in their heads.
Following are possible ways to use photos, personal items, and decorations within memorial services:
Display an enlarged photo of the person during the eulogy to help people direct their thoughts and memories on the person who has died.
Distribute photo-customized funeral programs to attendees of the funeral or memorial services. You can also mail the funeral program to friends and family that could not be present for the funeral memorial services. Elegant Memorials offers a wide assortment of funeral program template layouts and designs that help capture the uniqueness of your loved one.

A Photo Collage Can Turn a Funeral or Memorial Program into a Cherished Keepsake

Add Collages to our easy to use Templates
Templates use Microsoft Word or Publisher or Apple Pages
Many layouts to suit you needs
No Waiting -- Download and edit in minutes
Did you discover old photographs that you didn't know existed when you cleaned out your loved one's home and belongings? Display them during the service and then give them as gifts to the attendees. Memorial Photo collages can also be constructed from these old photos, and can be incorporated into the funeral programs, prayer cards and keepsakes.
In addition to static photo collages, video tributes can also be incorporated into a viewing, wake, funeral or memorial service. These videos can be computer slideshows or DVDs and showcase many photographs often set to music. These videos can play in the background, or can be viewed as a part of the actual memorial service.
Create a family tree to depict the deceased person's heritage. This is especially helpful if the person comes from a large family or has many children and grandchildren.
When announcing the memorial service and sending invitations, ask people to bring their old photo albums to the service. Lay out the albums and other framed pictures on tables so that as people arrive, they can enjoy the memories.
In addition to having photos on display, also include special keepsakes of the person, such as a favorite hat, piece of artwork, or jewelry items that represent particular qualities of the person. Memory boxes can be displayed for attendees to collect special items that were special to the deceased and their family members.
Feel free to use color schemes, and include balloons and ribbons. This is especially helpful if you are having a Celebration of Life Memorial Service and are truly celebrating the life of the person who has passed away. If you're not sure which colors are best, try using the deceased person's favorite colors.
Use theme decor based on your loved one's interests. Decorate with balls and clubs for the golfer, Harley Davidson gear for the motorcyclist, and flowers and gardening tools for the gardener. Previously, people have thought that these types of decorating ideas were inappropriate; but now it is thought to be more beneficial to really personalize the service.
Make the Perfect Keepsake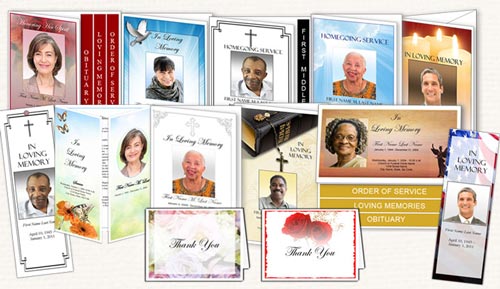 Professional Designs formatted using Microsoft Word or Publisher or MAC Pages
All wording can be changed, including the program title
Many Designs and Layout...choose from programs, prayer cards and bookmarks
Instant Download and Live customer support