Clipart Frames for Photos — for Funeral Keepsakes with that Special Touch
Are you hoping to create a unique and memorable keepsake for your loved one's funeral? Adding frames to photographs is a simple way to personalize the mementos you design. Easy to use frame templates allow anyone to frame digital photographs for a customized look.
Clipart frames are essential tools for dressing up cover photos on funeral programs and booklets. The wide range of frames available ensures that the keepsakes you create will be unique. You could, for example, frame that special photo of Mom with a gold oval trimmed in lace and roses. If you've suffered the loss of a child, enhance their precious photo with a pink or blue ribbon frame.
You aren't limited to using clipart frame templates for cover photos, either. Why not create a striking border around a family photo inserted in your funeral booklet? The photo will stand out from the text and the overall look will be more professional.
With so many different styles and finishes in these frame templates, you'll be able to choose one that suits the person and the photo. Additional funeral clip art images such as flowers, bouquets and flourishes,as well as fancy titles can be inserted to compliment the overall theme of your publication.
Anyone Can Use Clipart Frames
If you're concerned you don't have the skills to design an appropriate keepsake using photo frames, allow us to set your mind at ease. Using simple copy and paste commands, you can insert and resize frames and wrap them around the photos in your funeral mementos. We've even created a video that contains all the tips you'll need quickly and easily apply frames to your photos and images.
Here are a few additional tips for using the frame templates you've purchased:
What overall impression do you hope to create in the keepsake? How can the frames you choose add to that image? Wood finish frames, for example, convey masculine strength while a lace-fringed frame speaks of feminine grace.
Which style and color of frame compliments the photo's color pallet? When using color photos on the cover or interior pages, make sure your frame selection doesn't distract from the image.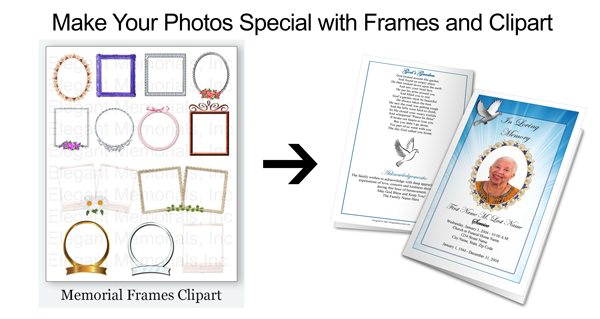 Can family photos be emphasized by the addition of frames and borders? Make your booklet's interior pages look more polished by framing group photographs.
Will the finished keepsake be easy to read once framed photos are inserted? Place text and framed photos in neat, uncluttered pages that are easy to read and remember. Use a funeral program template if you're not sure how to structure your keepsake publication.
What theme will you follow for funeral programs, booklets, bookmarks and other mementos? By using similarly framed photos and themes throughout the collection of keepsakes you design, you'll present a more uniform remembrance of your loved one.
Beautiful funeral publications are enhanced by the addition of clipart frames for photos. Today's digital tools make these additions painless, no matter how much experience you have in creating printed items. Choose and frame photographs that best represent the person who has passed away and honor them with well-designed, artful funeral keepsakes.