Samples of Simple Funeral Program Collages
Here are a few samples of very simple photo collages that you can easily add to your funeral programs to give them a personal touch. Friends and family love to see photos of their honored loved ones, and their family members. In a couple of minutes, you can add a memorial photo collage, and turn a basic funeral or memorial service program into a memorial keepsake that will be a treasured keepsake for years to come. Listed below are several funeral collage ideas. Also see our article on funeral program pictures.

Funeral Program Collage 1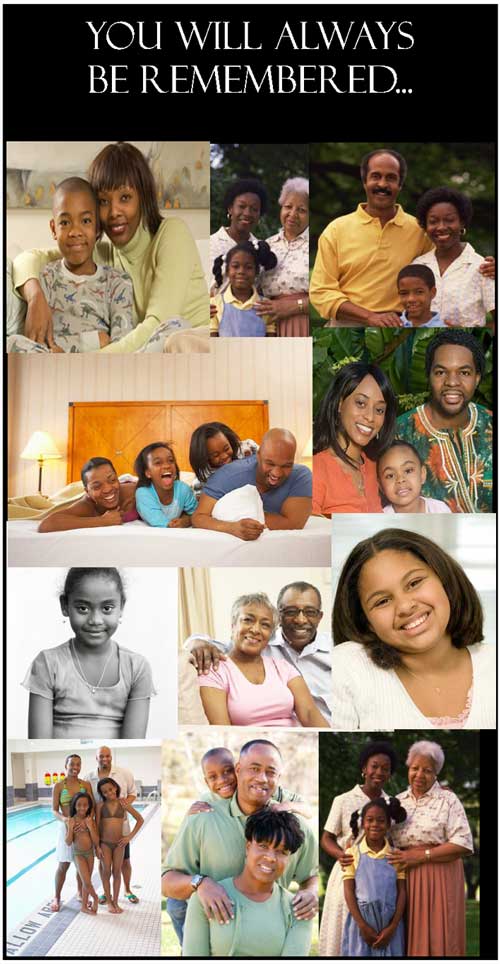 This funeral photo collage is very simple to create. Just insert photos using the menu options from Microsoft Word or Microsoft Publisher and resize the photos to make them fit on the document or canvas. You may have to resize or crop (cut the photo) to make the photos fit on the page. This funeral collage just puts the pictures "one beside the other" with no formal placements or borders. The top of the collage has a caption of "You Will Always Be Remembered", and there is a black border that helps pull the entire collage together.
Funeral Program Collage 2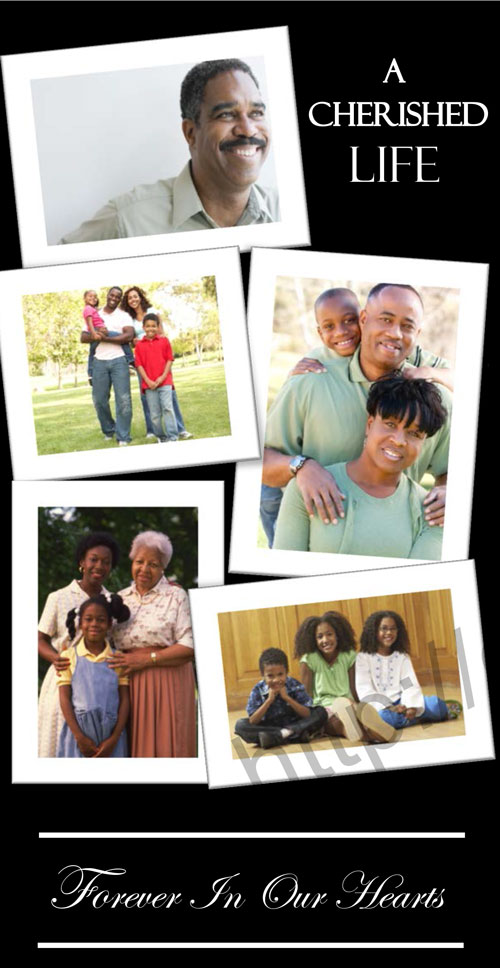 This collage uses Microsoft Word or Publisher built-in borders and shadows to help create this informal "scattered picture" effect. Insert your photos, then go to the photo formatting tab. If you are using Microsoft 2010 or higher you can easily access many pre-formatted border and shadow effects by just hovering and clicking. (If you are using a template, you may want to save in Microsoft Word 2010 format by simply doing a "save as".) We applied the preset border, then we tilted the pictures slightly. This collage is finished with "Forever in Our Hearts" caption at the bottom.
Funeral Program Collage 3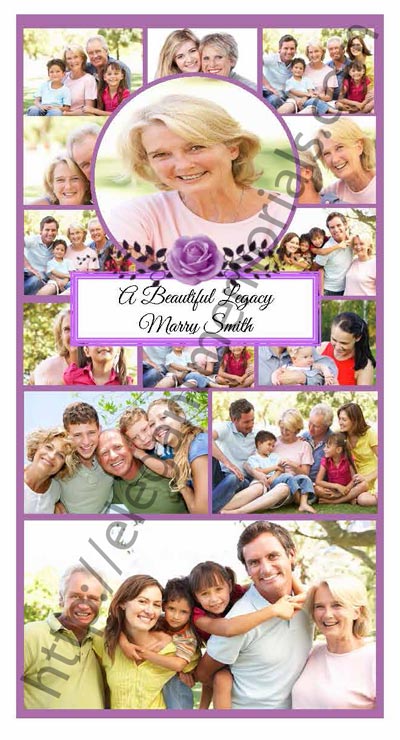 This collage features family pictures neatly aligned with a picture of the featured person as an overlay. When inserting your pictures, you may have to use your "crop" tool to cut the pictures down so that you can make neat square and rectagle pictures. The feature photo has a colored border (circle autoshape) around it, as well as a flower clipart and a banner featuring the persons name. The pictures are placed on a lavender background, which gives the illusion of thick, colored borders around the pictures. For more information on manipulating photos, see our article on funeral program photo editing and Using Clipart Frames for Photos.