Funeral Programs Backgrounds and Graphics
Funeral programs and booklets have changed dramatically over the years. These programs used to contain very plain colors without much design or flare. Funeral program and funeral stationery graphics have significantly changed. Now, it is very common to see images for funeral program graphics with backgrounds of vibrant colors, beautiful scenic designs and themes, personalized clipart and many different artistic design elements. Here are some ways that art, color, design and images are used on today's funeral backgrounds.

Funeral Program Background Covers
Background images for funeral programs have had the most dramatic change on the covers. In the past, most programs given out an funeral and memorial services were often printed on plain white or beige paper, with black and white writing and maybe a small black and white clipart image. Now covers can feature many different colors and themes. It is possiblew to find free funeral program background images, or you can look for pre-formated funeral program templates so that you have both the backgrounds, wording and formatting. Here are a few:
Simple Funeral Program Cover -- These covers are still relatively conservative, but will often feature a colored border for a design element. These covers are perfect for the person who still wants a conservative funeral program graphics, but wants an updated look.
Floral Backgrounds -- You can get a funeral background with beautiful floral designs. You can choose a simple design feature one or a few flowers on a solid covered background, or a very colorful floral design that fully covers the program. Flowers covers are a good way to honor your loved one, since very often your loved one my have had a favorite flower.
Choose from a Variety of Funeral Background Images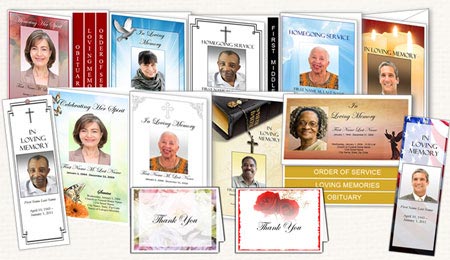 Professional Designs formatted using Microsoft Word or Publisher
All test can be changed, including the program title
Flexible Designs and Layout
Instant Download and Live customer support
Outdoors and Scenic Backgrounds-- These covers are good if your loved one loved scenery or the outdoors. You can easily find templates or get designs that feature scenery such as beaches, mountains, trees, gardens, sunrises, sunsets and many other outdoors images.
Religious and Spiritual Covers -- Since many, many services are religious based, it may be appropriate to choose a religious themed background. These backgrounds may feature images such as crosses, bibles, Jesus, churches and other religious symbols.
Hobbies and Interests -- You can find graphics based on hobbies and interests such as golf, gardening and many others.
There are other ways that you can incorporate graphics into your program in addition to the cover art. Here are a few other suggestions for using graphical elements in your program to add extra design features.
Funeral Program Clipart
Funeral and memorial clipart can help add a special personalized touch to your program. Different types of clipart included traditional symbols of memorial such as doves, crosses, butterflies and flowers. You can also add flourishes, separators, picture frames and borders to your programs for a perfect, polished finish. See more information on Funeral and Memorial Clipart.
Funeral Program Frames and Borders
Borders are a type of clipart that is very versitile. Borders can be used as a simple background cover, they can frame a picture, poem or photo collages. You can choose from different designs such as floral or ornate, as well as choose different colors.
Funeral Program Fonts
Fonts can be a very good way to add a professional looking design feature to your program. Fonts can often convey the tone of your service. If you are having a traditional service, may choose classic fonts. If you are having a non-traditional funeral or memorial service, or a celebration of life, you can choose fonts that are light and fun. Of course you can experiment with font size, thickness and color, but use sparingly so that you don't overwhelm your readers. For more information, see our article on funeral program fonts.
Autoshapes and WordArt
Most Word Processors, including Microsoft Word and almost all desktop publishing programs such as Microsoft Publisher have special ways you can manipulate text to create cook graphics effects generally called "TextArt" or "WordArt". This feature will allow you to manipulate text such as enlarging, shadows, outlines, glow and 3-D effects just to name a few. Spend some time experimenting with these effects. However, remember that less is more. Text effects should be used as an accent. Too much will distract from the program.
Autoshapes are also a good way to add a graphical element. You can use autoshapes to place your photos in. Draw an oval and change the border. Then, go to fill effects and select the picture that you want to display. This is a simple way to add interest to your photos.
Family Photos and Pictures and Collages
Family photos and collages are a great way to add color and design, and also helps comfort mourning family members and guests. A well planned photo or photo collage can turn a plain funeral brochure into a treasued keepsake that friends and family will cherish. See our article on Creating Funeral Program Collages and Funeral Program Pictures for more information.