Custom Funeral Programs
Custom Funeral Programs are created based on your personal specifications. Instead of preset fonts, images and captions, you can chooose almost all elements of your funeral program. Choosing your own options will allow you to make your program unique and personal. With custom elements you can make your program reflect your loved one and family's personal style and tastes. Many companies offer custom program design, but it can be very expensive and time consuming. You can create your own custom program by using funeral program templates from Elegant Memorials. Also see our articles on funeral programs online.

Funeral Program Custom Options
Various elements can be changed and added to make your program as unique as your family member. Here are a few elements that you can change to make your program, keepsake or memorial card special.
Photos -- Photos are the main element that helps give the "custom" program look and feel. Family photos is probably the most important customization element on programs and booklets. Cover photos can be retouched and cropped, and family photos can be put into collages and frames. Everyone loves photos of their family member's life. See our articles onSelecting photos for funerals and memorials and funeral program pictures for more details about using family photos in memorials.
Customize your program with your favorite photos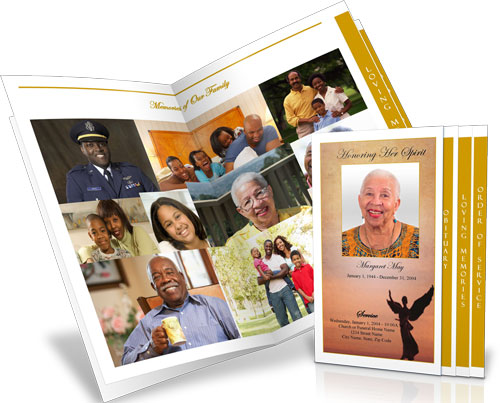 Add your favorite family photos and create collages
Custom Funeral Program Templates in MS Word, Publisher or Mac Pages
Add Frames and Clipart to Photos to make it special
All wording can be changed, including the program title
Instant Download and Live customer support
Layouts and Paper Sizes -- Custom memorial programs, folders and booklets can come in a wide range of sizes and layouts. Bifold, trifold, step or graduated folds, different orientations and paper sizes. Choosing a unique paper size and layout can help make your program interesting and different.
Fonts -- You can change font sizes, colors and styles. Choose a fancy script for an elegant and formal look, or a block style for a more casual feel. If you are using Microsoft Word, you can experiment with the WordArt feature which will allow you to manipulate your text and create stunning visual designs such as shadow, outline and mirror effects. Wordart typically available in Microsoft Office software such as Microsoft Word, Powerpoint and Publisher.
Colors -- If your loved one had a favorite color why not incorporated it into your memorial program. Also, some funerals, memorials or celebration of life services sometiems have a color theme. You can make your program colors match the theme of your service.
Background Image -- A variety of background styles and designs can be used on your custom funeral program. You can choose from nature and flower themes, patriotic backgrounds, religious symbols just to name a few. You can also use a photo as the main background image to make you program more personal.
Additional clipart and images -- Feel free to incorporate additional visual elements to add style and personal touch. Crosses, butterflies, flowers and many other images can be added to your program.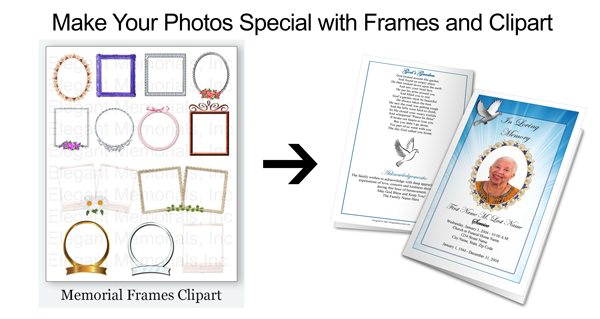 Frames and Borders -- Can be used to accent photos. Frames and borders can be all different kinds of colors, styles and textures can bring life to photos and picture collages.
Personal Notes, Quotes and Poems -- These elements included in your program help give the sentimental personal touch to funeral programs and booklets. It's really what helps capture the spirit and personality of your loved one, and helps convey the deep and personal feelings of family and friends. The Elegantmemorials.com website has many articles on funeral poems, quotes and scriptures.
Use Funeral Program Templates to Create Custom Keepsakes
Using a funeral program template is the quickest and easiest way to create a custome funeral program or booklet. You can purchase templates online and the prices are resonable. Once you've downloaded your template to your computer, you can begin to customize your template with your specific options. Here are a few tips for purchasing and using templates.
Purchase a template that uses software that you are familiar with -- Templates can come in many different software formats. Make sure your template uses software that you understand. Microsoft Word, Publisher, and MAC pages are the easiest formats. You can also find templates in Adobe Photoshop, but Photoshop is not very easy to use.
Make sure you understand what elements you can change. -- Some programs do not allow you to change titles, and may be restrictive with how much additional photos, images and pictures you can add. Templates from Elegant Memorials allow you to change all text and easily add additional photos and images.
Be aware of the layout and paper size of your template -- Also, make sure you understand how your template will fold, and it's finished size. See our article on funeral program layouts to get a better understanding of sizes, folds and finishes.
Make sure your photos are in good shape -- Spend a little extra time cleaning up photos. Make sure they are clear and in focus. You may want to remove background distractions, and adjust the brightness and contrast. The photos, especially the cover photo can make or break your program.