Funeral Program and Memorial Clipart and Images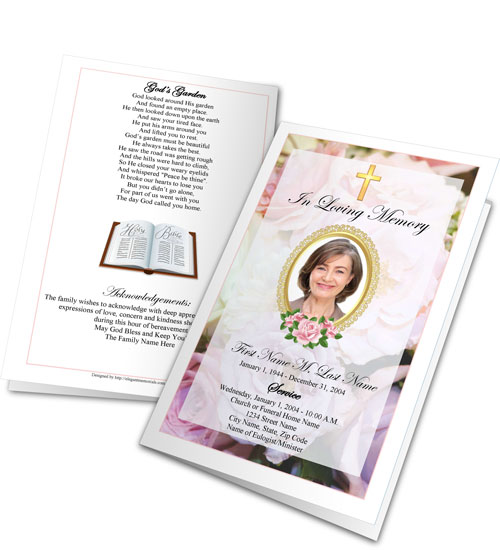 Funeral Program and Memorial Clipart is often used to help personalize and add graphic design interest to funeral programs and memorial booklets. The right choice of clipart, borders, picture frames, flourishes and seperators can turn an otherwise dull program into a beautiful, well-designed and personalized keepsake that friends and family members with save and treasure for years to come.
There are many different types of clipart graphics and images that are commonly used in printed memorial materials. Some of these include:
Religious Clipart Graphics and Symbols
Religious clipart and symbols are very often used in programs and memorial stationery. Commonly used graphics are crosses, bibles, angels, praying hands, and saints. If you are having a traditional religious service in a church, chapel or synagogue, or if spirituality was important to your loved one, this kind of clip art for a funeral program can be the perfect accent.
Funeral and Memorial Symbols
Funeral symbols are also popular in funeral and memorial. Images such as wreaths, floral bouquets and sprays, doves, butterfies and angels can help express your feelings about your loved one.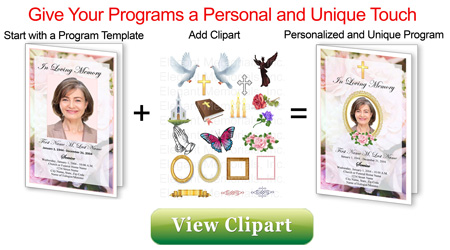 Flowers
Flowers and floral bouquest are always appropriate for memorial booklets and celebration of life brochures. Choose a flower or color that your loved one really liked for an extra personal touch.
Frames and Borders
Frames and Borders give an artistic touch to cover photos and portraits in your booklets. A beautiful ornate frame around a picture will help the photo stand out. You can also add decorative borders to content in your booklets, such as funeral poems, quotes, scriptures and other information.
Flourishes, Separaters and Banners
Flourishes and separators help add an elegant touch to your programs. Flourishes and separtors are perfect for separating different types of information, and help maintain spacing and "white space". Banners can be used to highlight text and make text stand out.
Finding Images for Funeral Programs
It can be tricky finding images for your memorial booklets and other printed memorial materials. Now adays, most people will go ont he internet to locate these images. Image searches may give you many options, but most of these images are copywrite protected. Using these images with permission is illegal. If you are a company or have a business creating programs, you need to be particularly careful.
There are "Creative Commons" or Public Domain" websites that offer "free" images, but you must take the time understand the terms of service.
You can use paid stock photo sites to find images for your programs. These sites have many different images available and many different pricing options. However, don't assume that since you paid for the image that you can use it anyway that you like. Again, you must take the time to read the terms of service. There are often restrictions on how you can use the images.
Clipart and Images from Elegant Memorials
Elegant Memorials sells memorial clipart that you can purchase and freely use in your funeral and memorial programs. Our graphic artists have created these images specifically for our clients to use in funeral and memorial programs and other memorial products for family and friends, or for clients, if you have a memorial printing business. Our images are perfect for memorials, and keep you from spending valuable time searching for appropriate images. These images are have vibrant colors and have transparent backgrounds so that they will blend with any background that you are using. Elegant Memorials also has terms of service, so make sure you read through them.
Clipart can help make your programs special. You can also see our articles on funeral program wording and sample funeral programs for more information.